WNYC Awards Third Annual Lehrer Prize for Community Well-Being
This year's awards to recognize everyday heroes who keep kids mentally, socially, and emotionally healthy 
Winners will be honored during a special evening edition of "The Brian Lehrer Show" on Thursday, June 15 at 8 PM ET on WNYC 93.9 FM, 820 AM and streaming at wnyc.org
Hosted by BRIAN LEHRER and featuring DR. VIVEK MURTHY, U.S. Surgeon General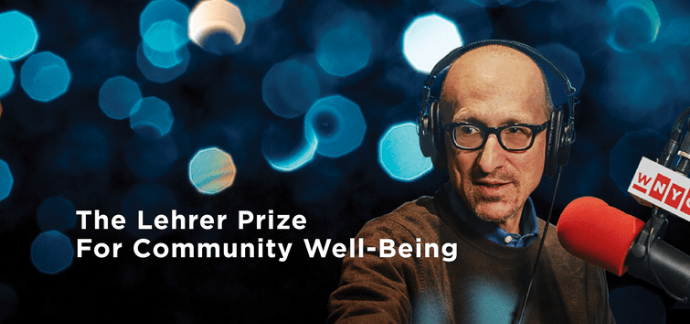 (New York, NY – June 15, 2023) — This evening at 8pm ET, WNYC announces the honorees of the third annual Lehrer Prize for Community Well-Being during a special live broadcast of The Brian Lehrer Show on WNYC 93.9 FM, 820 AM and streaming at wnyc.org.
The 2023 Lehrer Prize for Community Well-Being is awarded to individuals who work in and around schools and make an impact on the social and emotional well-being of children in New York and New Jersey. Each honoree receives a cash award of $2,500 in appreciation of their exemplary efforts and commitment to their community.
"Before the pandemic, many schools used social and emotional learning to support children's mental health," said Brian Lehrer. "In the last three years, this practice has become more important than ever, but it's also come under political attack from those who downplay the importance of the social environment to psychological health. This year, we are proud to honor some social and emotional learning leaders from the New York City area, who were nominated by listeners whose children or communities have benefited from their skills and dedication."
The Lehrer Prize for Community Well-Being was founded to recognize a standout idea, individual, or organization that has contributed meaningfully to improving the quality of life in New York City and the surrounding region. The award is named after WNYC's Peabody Award-winning host Brian Lehrer, whose daily call-in program, The Brian Lehrer Show, aims to build community by bringing listeners together with elected officials, community leaders, policy-makers, journalists, and each other to convene conversations about the issues affecting our city, our nation, and our lives. "Community well-being" is a phrase drawn from the public health arena that takes into account the combination of social, economic, environmental, cultural, and political conditions that affect people in a particular community.
This year's honorees are as follows:
Unyque Rencher is a paraprofessional at PS 372–The Children's School of Brooklyn, which serves elementary school students in districts 15 and 75, including 20 students from newly arrived asylum-seeking families. The school's mission includes providing and promoting "an inclusive learning environment for general education students and students with special needs to meet their diverse abilities and to maximize their growth and potential." The parent who nominated Unyque wrote: "I've had plenty of opportunities to witness how Unyque's fun, loving personality makes every child feel welcome and cared for…When I heard about the Lehrer Prize for this year, the very first person I thought of was Unyque. His priority is the social and emotional well-being of the children at our special little school, and I can't think of a better person to honor."
Ridvan Idara Foxhall is the founder and creative director of New Era Creative Space (NECS), which provides after-school programs for the young people of Peekskill, NY. Its mission, based on the core belief that children and youth are the most valuable assets of a community, is to inspire stronger communities through creative programs, which include visual and performing arts, wellness, leadership and empowerment, STEM, community outreach, social skills and drama therapy. The teacher at NECS who nominated Rivdan wrote: "She builds this community based on love, kindness, respect, patience and bringing out the inner goodness of every child. Every child who participates in the program grows in self esteem, self love and is cherished and valued. They are also becoming socially engaged young citizens."
Tracy Reinholt is the president and founder of Hunter's World, a teen mentoring program serving the Jersey City, NJ, area. She received several nominations for her work that grew from the tragedy of losing her 15-year-old son Hunter to a drug overdose in 2019. One of the nominators wrote: "With the increase in teen anxiety and mental health disorders during the pandemic, HuntersWorld has been an invaluable space and resource for high school students. Tracy used her profound grief as a catalyst for good, drawing on the empathy that her son Hunter was known for, to look out for other teens and ensure that they have the communication skills and support systems to keep them safe and thriving. Tracy has poured her love, her talents, and her memories of Hunter into serving Jersey City's teens."
The winner of the First Annual Lehrer Prize in 2020 was H.E.A.L.T.H. 4 Youths, an organization working to combat community deterioration through programs and workshops on education, health care, and life-skills training throughout New York City. The Second Annual Lehrer Prize, awarded in 2022, went to "vaccine heroes." The honorees were Bed-Stuy Strong, an online community and mutual aid network; India Home, which helps elderly immigrants deal with social isolation and loneliness; and United Company Corporation-Newark, which helps low income, disadvantaged, and at-risk individuals become self-sufficient, as well as provide access to vaccination sites.
ABOUT WNYC
With an urban vibrancy and a global perspective, WNYC is New York's public radio station, broadcasting and streaming award-winning journalism, groundbreaking audio programming and essential talk radio to the city and beyond. WNYC is a leading member station of NPR and broadcasts programs from the BBC World Service, along with a roster of WNYC-produced local programs that champion the stories and spirit of New York City and the surrounding region. From its state-of-the-art studios, WNYC is reshaping audio for a new generation of listeners, producing some of the most beloved nationally-syndicated public radio programs including Radiolab, On the Media, The New Yorker Radio Hour, and the local radio show and podcast The Brian Lehrer Show. WNYC broadcasts on 93.9 FM and AM 820 to listeners in New York and the tri-state area, and is available to audiences everywhere at WNYC.org, the WNYC app and through major digital radio services, all made possible through the generous support of our members, donors and sponsors.