WNYC Studios' "Notes from America with Kai Wright" Hosts National Juneteenth Live Radio Call-in from Houston Public Media
Special broadcast will bring local voices from the birthplace of Juneteenth to a national audience and engage listeners around the meaning of the holiday in their own lives 
Airs Sunday, June 18th at 6pm ET / 5pm CT
on over 100 public radio stations across the country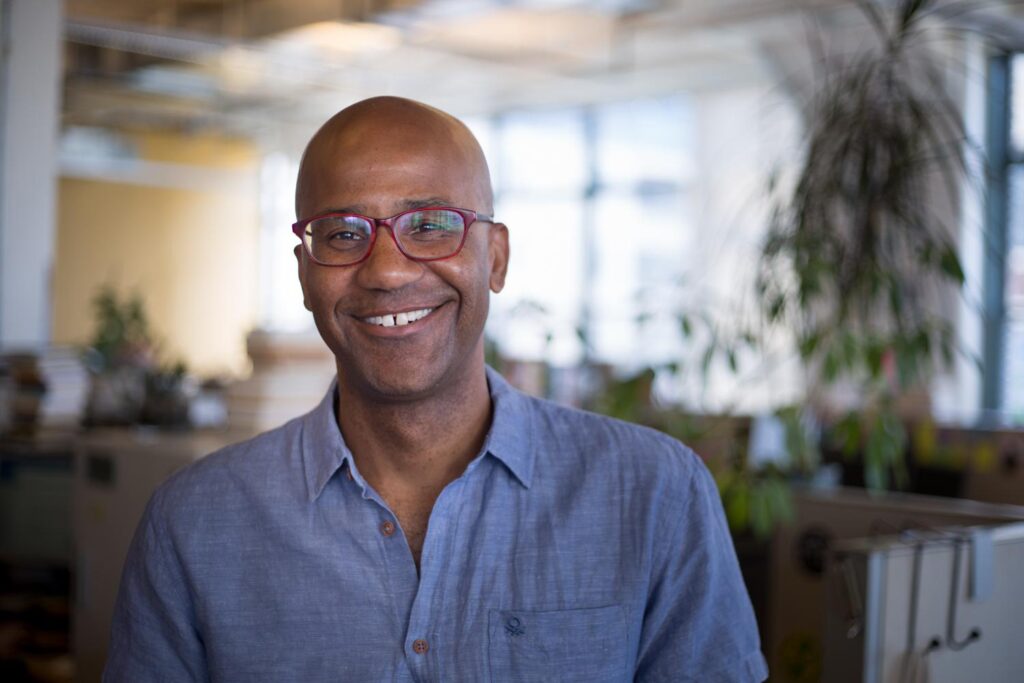 (June 12, 2023) – This Juneteenth, WNYC Studios' Kai Wright will host his nationally-syndicated public radio show Notes from America with Kai Wright live from Texas, where Juneteenth originated and was first celebrated in 1865.
On Sunday, June 18 at 6pm ET / 5pm CT, Notes from America with Kai Wright will broadcast from Houston, Texas – in partnership with Houston Public Media – tapping into the local history and legacy that has given rise to this national holiday. Wright will welcome Black Texans who are dedicated to preserving and illuminating the origins of Juneteenth. Guests include Zion Escobar, executive director of the Freedman's Town Conservancy, which aims to preserve and protect the legacy of the city where many formerly enslaved Texans migrated, and Houston-based musical artist Lolade – a native of Nigeria who specializes in soul, jazz and folk music with an African influence. Torin Collins, of the Juneteenth Legacy Project, will also give Wright a walking tour of Galveston.
Wright will take calls from listeners and discuss the past, present, and future of Black liberation – with a special nod to the challenges of preserving and honoring Juneteenth's legacy at a moment when a renewed anti-Blackness movement is permeating our educational systems.
"Foundational parts of American history are being banned, contested, and erased," said Kai Wright. "On Notes from America, we look to bring insight and connection during these divided times. Our Juneteenth call-in will celebrate a part of American history that has only recently been elevated to national awareness. We look forward to honoring it with the descendants, leaders, and voices who are dedicated to preserving its rightful place in history."
Notes from America with Kai Wright is a weekly live radio show that convenes intimate conversations about race, power, and democracy — putting them in historical and cultural contexts while also providing a space for listeners to share how these issues impact their lives on a personal level.
Notes from America with Kai Wright's National Juneteenth Call-in Special will air live on Sunday, June 18th at 6pm ET/5pm CT. The podcast version will be available on Monday, June 19th at https://www.wnycstudios.org/podcasts/anxiety or wherever you get your podcasts.
ABOUT KAI WRIGHT
Kai Wright is the host of WNYC Studios' Notes from America with Kai Wright, a show about the unfinished business of our history and its grip on our future, airing on nearly 100 public radio stations across the country. The show originated as a podcast called United States of Anxiety. In 2017, Wright was one of the hosts of Indivisible, a national pop-up call-in show produced by WNYC, Minnesota Public Radio, and The Economist, that brought listeners together across divides throughout the first 100 days of the Trump presidency. He also hosted two social justice podcast series from WNYC: There Goes the Neighborhood, about gentrification in Brooklyn, and the duPont-Columbia Award-winning Caught: Lives of Juvenile Justice, a look at the lifelong effects of youth incarceration on men of color. Prior to WNYC, Wright worked in print and digital media, including editorial positions at ColorLines, The Root, and The Nation.
ABOUT WNYC STUDIOS
WNYC Studios is the premier producer of on-demand and broadcast audio, and home to some of the industry's most critically acclaimed and popular podcasts, including Radiolab, On the Media, La Brega, The New Yorker Radio Hour, Death, Sex & Money, and Notes from America with Kai Wright. WNYC Studios is leading the new golden age in audio with podcasts and national radio programs that inform, inspire, and delight millions of curious and highly engaged listeners across digital, mobile, and broadcast platforms. Programs include personal narratives, deep journalism, revealing interviews, and smart entertainment as varied and intimate as the human voice itself. For more information, visit wnycstudios.org.