Brooklyn Children's Museum & WQXR Present Classical Kids Fair on Sunday, June 4
Celebration will feature live performances, an instrument petting zoo, arts and crafts, and dance workshops
Special Guests include Molly Webster from the WNYC Studios podcast Radiolab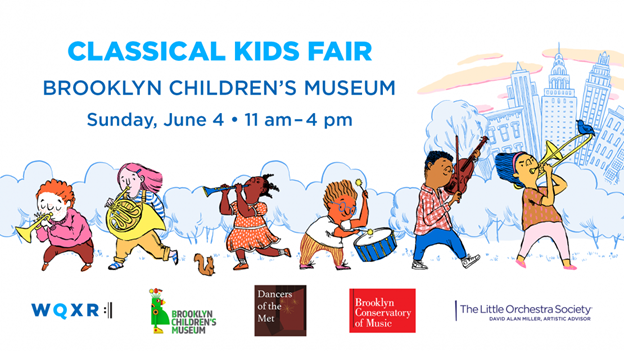 (Brooklyn, NY)— On Sunday, June 4, New York's Classical Music Station WQXR 105.9 FM and wqxr.org returns to Brooklyn Children's Museum for the Classical Kids Fair, a day of performances, dance workshops, arts and crafts, and more. Participating partners include the Brooklyn Conservatory of Music, The Little Orchestra Society, and Dancers of the Met Opera ballet.
The event will include a special reading by award-winning Radiolab producer and reporter Molly Webster from her new children's book, Little Black Hole, a charming and playful space-based story about the power of friendships and the real science behind black holes. Families will also have an opportunity to stop by a pop-up recording studio hosted by WNYC, part of the series "Our City, Our Stories."
Throughout the day, the Brooklyn Conservatory of Music will hold performances, lead storytelling sessions, and convene an instrument "petting zoo"; ballet dancers from the Met Opera will lead dance workshops and performances; and The Little Orchestra Society will present workshops for kids to build their own instruments and learn how to compose music.
What: Classical Kids Fair
When: Sunday, June 4, from 11 am-4 pm
Where: Brooklyn Children's Museum, 145 Brooklyn Avenue, Brooklyn, NY, 11213
Tickets: Tickets are $13 for adults and children older than 1-year-old; grandparent tickets are $12; children under 1 are free. Purchase tickets here.
You can learn more about the event and programming at www.brooklynkids.org/programs/classical-kids-fair
About Brooklyn Children's Museum
Inspired by the energy and diversity of our borough, Brooklyn Children's Museum creates experiences that ignite curiosity, celebrate identity and cultivate joyful learning. Founded in 1899 as the world's first children's museum, Brooklyn Children's Museum (BCM) is New York City's largest cultural institution designed especially for families. Proudly based in Crown Heights, Brooklyn, BCM serves 300,000 children and caregivers annually with exhibits and programs grounded in visual arts, music and performance, natural science, and world cultures. For more information, visit: https://www.brooklynkids.org/
About WQXR
WQXR is New York City's only all-classical music station, immersing listeners in the city's rich musical life on-air at 105.9FM, online at WQXR.org, and in person through live events and performances. WQXR presents new and landmark classical recordings, as well as live concerts from New York City's concert halls and performance venues, and broadcasts essential destination programs including Carnegie Hall Live, Metropolitan Opera Saturday Matinee Broadcasts, New York Philharmonic This Week, New York in Concert, This Week with Yannick, and the Young Artists Showcase. WQXR also produces podcasts that reach new audiences for the artform: Every Voice with Terrance McKnight, The NY Phil Story: Made in New York, The Open Ears Project, Helga, and—in partnership with the Metropolitan Opera—the critically acclaimed opera podcast, Aria Code. As a public radio station, WQXR is supported through the generosity of its members, donors, and sponsors, making classical music relevant, accessible, and inspiring for all.