The Greene Space at WNYC and WQXR Name The Civilians as Spring 2023 Artist-in-Residence
Investigative theater company The Civilians curates three nights of live performances on
March 13, April 17 and May 15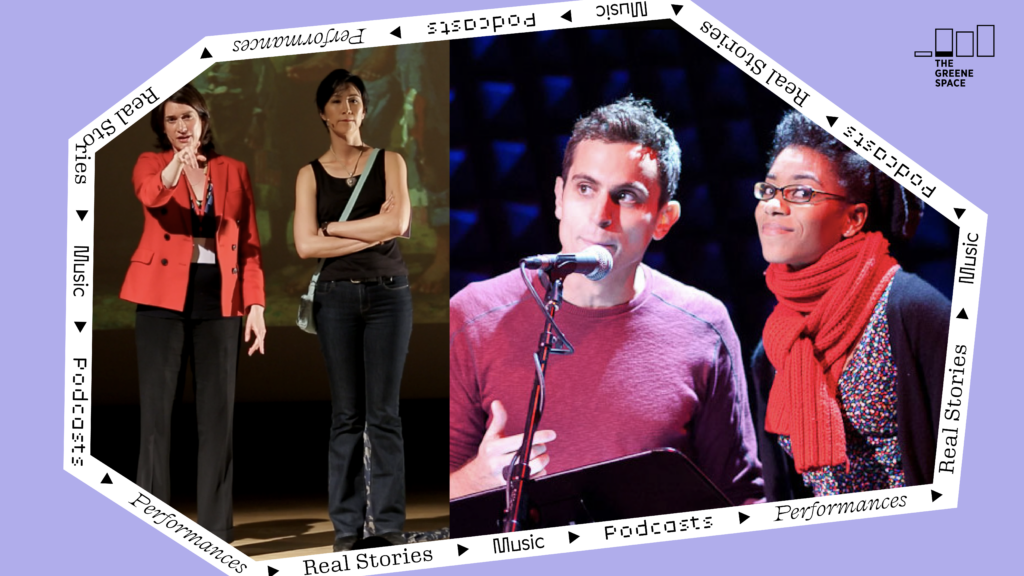 (February 13, 2023 – New York, NY) – The Jerome L. Greene Performance Space, the live event space and broadcast studio from WNYC and WQXR, has named The Civilians its 2023 Spring Artist-in-Residence. The Civilians creates ambitious and exuberant new theater that creatively interrogates our lived experience. During their residency, they will curate three evenings of multidisciplinary performances that highlight their signature investigative theater style.
The residency kicks off on Monday, March 13 at 7pm with "Make me Feel (Mighty Real)," an evening of improvised scenes and music using AI-generated content. An ensemble of theater makers will "collaborate" with ChatGPT and other programs to devise characters, plot, dialogue, musical underscoring, and songs and then perform the results live onstage. As part of the evening, Civilians Artistic Director, Steve Cosson, will engage in a conversation with "Aging Homosexual," the bot he created in his own image, as they parse art, politics, and the meaning of life. In the spirit of experimentation, The Civilians will exploit the unpredictability of live theater, the intersection of art and science, and perhaps reveal something about the fabric of our modern existence.

Participants include performers Quincy Tyler Bernstine, Maya Sharpe, Cindy Cheung, Robert Johanson, Heath Saunders, and Jennifer R. Morris, writer Colleen Werthmann, composer and sound designer Christian Frederickson, and music director Wiley DeWeese.
For the second installment of their residency, "Liveness: A Performance Made From The WNYC Archives," on April 17 at 7pm, The Civilians will stage a creative intervention with the WNYC archives. In the 1970s, WNYC regularly aired 90 minutes of free-flowing conversations with experimental filmmakers and radical poets that included awkward pauses and the background sounds of children playing. Performers will channel these voices of iconic artists from the past to create a portrait of a bygone New York City with all its gritty human texture.

Details for the final installment of their residency on May 15 will be announced at a later time.
"The Greene Space has long been a site that elevates bold and courageous voices across New York City through a range of multidisciplinary performances. We're thrilled to host The Civilians, an innovative theater collective that works at the intersection of art and journalism, as our Spring Artist-in-Residence," said Kristina Newman-Scott, Executive Director, The Greene Space. "With a practice rooted in investigative theater and performances revisiting our past and imagining our future, The Civilians' work realizes the promise and potential of The Greene Space."
"A residency at The Greene Space gives The Civilians a unique opportunity to test out new ideas and to explore one-of-a-kind ways of creating new theater," said Steve Cosson, Artistic Director, The Civilians. "In addition to the vast richness of the WNYC archive, the intimacy and the immediacy of The Greene Space dares us to reimagine how theater gets made."
"The Greene Space's Artist-in-Residence program supports adventurous attempts to better make sense of our times through creative collaborations and conversations," said Jennifer Keeney Sendrow, Executive Producer, The Greene Space. "The Civilians are a perfect match for our venue, transforming true stories into memorable performances, ambitiously playful and deeply felt, pushing us to see ourselves and one another with greater curiosity and compassion through the shared experience of live theater."

Additional information and tickets for each event may be found at https://thegreenespace.org/events/.

Lead philanthropic support for The Jerome L. Greene Performance Space is provided by The Jerome L. Greene Foundation. Additional support for The Greene Space comes from the Howard Gilman Foundation, MetLife Foundation, the Virginia B. Toulmin Foundation and public funds from the New York City Department of Cultural Affairs in partnership with the City Council.

The Civilians is grateful for the support of The Axe-Houghton Foundation.

About The Civilians
Founded in 2001, The Civilians is dedicated to ambitious and exuberant new theater that creatively interrogates our lived experience; questions and tests the stories that shape our world; and awakens new thinking and perceptions. Its signature work is "investigative theater"—projects created through field research, community collaborations, and other methods of in-depth inquiry. Shows originated with The Civilians include Anne Washburn's Mr. Burns, a post-electric play, cited by The New York Times as the "4th Best Play of the Past 25 Years," and Lucas Hnath's Dana H., recently on Broadway and included in Top 10 of 2021 lists by The New York Times and Time magazine. Other shows include José Rivera's Another Word for Beauty, and many works with composer Michael Friedman: Gone Missing, Pretty Filthy, Paris Commune, and more.

The Civilians has participated in several BAM Next Wave Festivals, has been produced at many major regional and Off-Broadway theaters, and was the first theater company to be Artist-in-Residence at The Metropolitan Museum of Art. With Ghostlight Records, The Michael Friedman Recording Project is creating nine albums of our founding member's works. The company sustains a number of artistic programs including new work development, a cabaret series for new musicals, the R&D Group new work lab, the online journal Extended Play, and more.
About The Jerome L. Greene Performance Space
The Greene Space is New York Public Radio's intimate performance space and multiplatform production studio with a mission to channel the collective genius of New York City to produce forward-looking live art, theater, and journalism that sparks change. It provides a space for fostering artistic experimentation and exploration, convening challenging conversations and forging connections between New York City's diverse communities. Since 2009, The Greene Space has hosted luminaries including Janelle Monáe and The National, actors Frances McDormand and the late Philip Seymour Hoffman, writers Nikki Giovanni, Hilton Als, and Roxane Gay, and newsmakers Mayor Bill de Blasio and Chelsea Manning, among many others. For more information, visit www.thegreenespace.org.