WQXR Presents "Every Voice with Terrance McKnight"
New podcast uncovers hidden voices in classical music and
their influence on contemporary American culture and beyond
Debut season explores representations of Blackness in opera
Debuts Thursday, February 16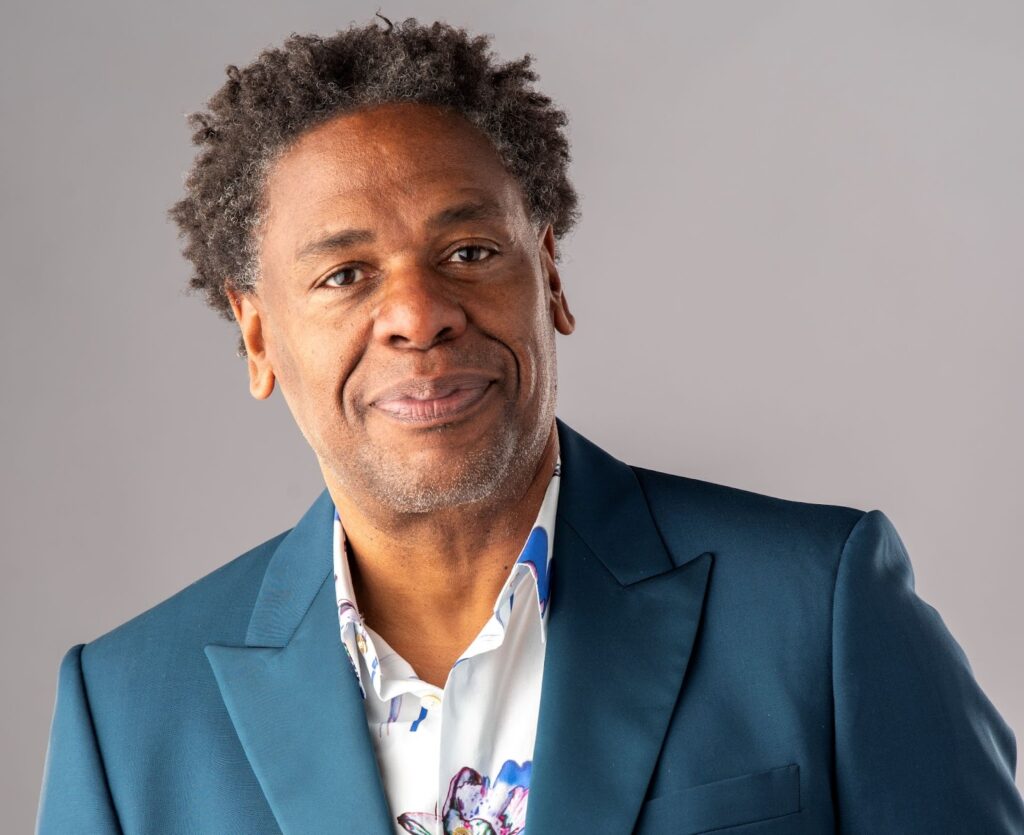 (New York, NY – January 25, 2023) – WQXR announced today Every Voice with Terrance McKnight, a new 16-episode podcast series spotlighting marginalized voices, histories and perspectives in the Western classical music tradition. 
Hosted by WQXR's Terrance McKnight, the debut season of Every Voice explores Black representation in opera through interviews with performers and educators, historical documents, archival performance recordings, and McKnight's signature style of personal storytelling, honed through his work as a classical music performer, teacher, presenter, producer and host. Every Voice builds on McKnight's extensive work in radio to elevate Black luminaries and perspectives in classical music, including audio documentaries of Florence Price, Harry Belafonte, Hazel Scott, and Langston Hughes.
Launching on Thursday, February 16, Every Voice will investigate and contextualize four Black figures in canonical works by W.A. Mozart and Giuseppe Verdi: Monostatos in "The Magic Flute," Otello in "Otello," Aida in "Aida," and Osmin in "Abduction from the Seraglio." These characters were first developed and performed amidst the dual forces of Europe's rapidly expanding colonial power in Africa and the acceleration of the transatlantic slave trade, becoming reflections and repositories of the racist ideologies and stereotypes of the time. Throughout the season, contemporary opera composer and founding director of Americolor Opera Alliance Dr. Sharon Willis joins McKnight to contrast these fictional Black characters with the historical figures in her own 16 operas, including Madam C.J. Walker, Black entrepreneur and activist; Alonzo Herndon, Atlanta's first Black millionaire; and Joseph LaRouche, a Black man who was aboard the Titanic.
Other notable voices in the series include:
Dr. Uzee Brown, baritone and chair of the Division of Creative and Performing Arts at Morehouse College
Melvin Foster, associate provost of Student Success and associate professor of Voice at Morehouse College
Tenor Chauncey Packer, whose performances include the role of Spinner in the Metropolitan Opera's production of Terence Blanchard's "Fire Shut Up in My Bones"
Raehann Bryce Davis, mezzo-soprano and winner of the 2018 George London Award
Two-time Grammy award-winning soprano Sylvia McNair
Janinah Burnett, renowned soprano known for performances on Broadway and Metropolitan Opera stages
Kevin Maynor, operatic bass and recording artist known for his performances in operas by Mozart, Verdi, and Wagner
Rising tenor Limmie Pulliam, who made his Metropolitan Opera debut as Radamès in "Aida"
"Classical music is a broad label for music of a culture, but our own American definition has remained stubbornly tethered to the Western European tradition," said Terrance McKnight. "In this debut season, I wanted to see what has been passed down to us through the operatic tradition in terms of Black representation, interrogate these characters who continue to appear every season on opera stages around the world, and honor the Black performers who have performed these roles. Even in a field as seemingly homogenous as Western classical music, there have always been other voices who have influenced the genre, sometimes unseen. Every Voice brings them to the forefront and celebrates this legacy."
The following themes are explored in four episode chapters:
Monostatos in "The Magic Flute" by W.A. Mozart
Monostatos is a Moor/African and an enslaved temple overseer in Mozart's still widely popular "The Magic Flute." His carnal desires for a woman outside of his societal grasp has left him isolated and filled with self loathing. His criminal behavior ultimately makes his character dispensable and beyond redemption. McKnight and guests explore the context of Black life in Viennese society in the late 18th century, when Mozart composed the opera, and investigate if and how Monostatos' character has evolved over the years.
Otello in "Otello" by Giuseppe Verdi
Verdi wrote his libretto during the Berlin Conference of the late 19th century, where European nations met to carve up the African continent for colonization. The societal structures African people were forced to operate within during Verdi's era are reflected in the character of Otello—the Moor, general, soldier, and statesman who is both feared and mocked.
Aida in "Aida" by Giuseppe Verdi
The cultural differences and relationship between Egyptians and Ethiopians in the second half of the 19th century are depicted in Verdi's "Aida," including by the Ethiopian princess herself, who falls in love with the Egyptian commander who captures and enslaves her. McKnight and guests examine how the opera has evolved and how modern companies contend with its appropriation of cultural stereotypes.
Osmin in "Abduction from the Seraglio" by W.A. Mozart
Osmin, the only African in Mozart's 18th century rescue play, is an overseer with no true power who needs to be monitored and controlled—a common trope about Blackness in European works of the time, and one that still permeates representations of Blackness today.
"WQXR is excited to support Terrance and his team in sharing these important stories that are crucial to understanding the full expression and history of classical music," said Ed Yim, Chief Content Officer, WQXR. "Classical music has so many barriers to entry, but this music belongs to everyone, and can be loved and challenged, appreciated and interrogated all at the same time. As part of our growing podcast portfolio, Every Voice will be available and accessible to a broad audience far beyond the concert hall. This podcast is for everyone who cares about music, history, and culture, and about the voices too often left out of the narrative."
More information on Every Voice will be available at everyvoicepodcast.com.
LIVE AND IN-PERSON – On Thursday, February 23, The Greene Space at WNYC and WQXR will host a celebration and behind the scenes look at the making of Every Voice with host and special guests, along with live musical performances. New York Public Radio's new President and CEO LaFontaine E. Oliver will also be on hand for introductory remarks. Details available here.
Every Voice with Terrance McKnight is supported in part by the National Endowment for the Arts. Leadership support for WQXR is provided by The Jerome L. Greene Foundation, The Carson Family Charitable Trust, The Robert and Mercedes Eichholz Foundation, and The Thompson Family Foundation.
ABOUT TERRANCE MCKNIGHT
Terrance McKnight is a commentator, curator, writer, author, pianist, and weekday evening host for WQXR, New York's only all-classical music station. His series about musical discovery, All Ears with Terrance McKnight, which ran 2010 to 2014, was honored with an ASCAP Deems Taylor Radio Broadcast Award. He serves as the artistic advisor for the Harlem Chamber Players, the Hermitage Artist Retreat and sits on the board of MacDowell. As a curator and presenter, McKnight has worked with organizations across the country, including Carnegie Hall, the Studio Museum of Harlem, the Museum of Modern Art, the Metropolitan Museum, The Apollo Theater, and Atlanta Symphony Orchestra, among others. McKnight has hosted concerts for The Orchestra of St. Luke's, Philadelphia Orchestra, New York Philharmonic's Young People's Concerts, and the American Pianists Association Competition. He has participated on panels for Chamber Music America, the Mellon Foundation, American Opera Projects, the Schomburg Center for Research in Black Culture, ASCAP and the New York State Council on the Arts. Earlier in his career, McKnight was a professor in the music department at Morehouse College. He is the author of Concert Black (Abrams Publishing) a forthcoming publication on the Black experience in Classical music
ABOUT WQXR
WQXR is New York City's only all-classical music station, immersing listeners in the city's rich musical life on-air at 105.9FM, online at WQXR.org, and in person through live events and performances. WQXR presents new and landmark classical recordings, as well as live concerts from New York City's concert halls and performance venues, and broadcasts essential destination programs including Carnegie Hall Live, Metropolitan Opera Saturday Matinee Broadcasts, New York Philharmonic This Week, New York in Concert, This Week with Yannick, and the Young Artists Showcase. WQXR also produces podcasts that reach new audiences for the artform: The Open Ears Project, Helga, and the critically acclaimed opera podcast Aria Code. As a public radio station, WQXR is supported through the generosity of its members, donors and sponsors, making classical music relevant, accessible and inspiring for all.