The Greene Space at WNYC and WQXR Announces Series Highlights for the Winter 2023 Season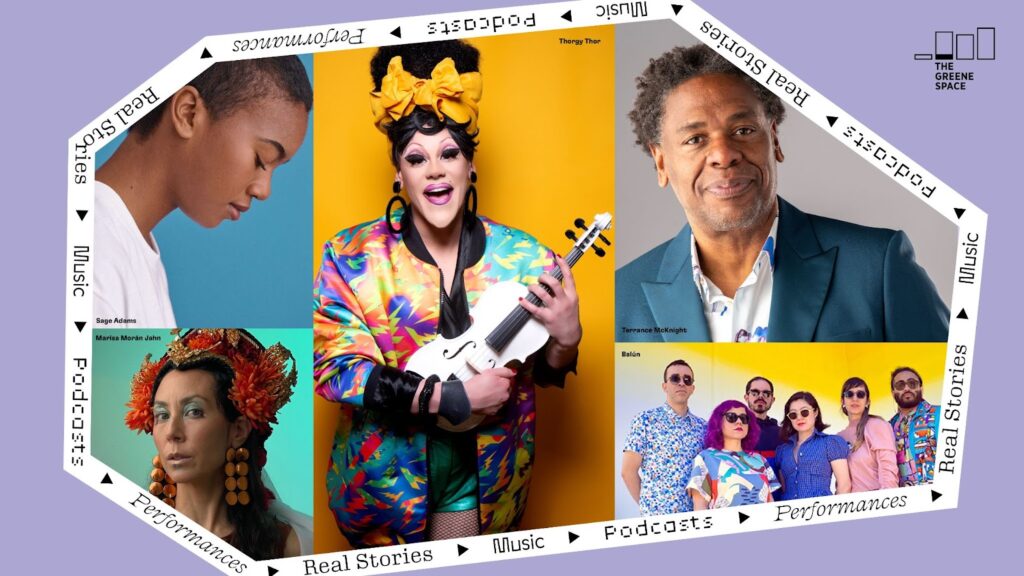 (New York, NY – Monday, January 9) – Today, The Jerome L. Greene Performance Space at WNYC and WQXR announces highlights from its upcoming season of live programming, on stage and online.
On February 8, The Greene Space welcomes the creative team behind the podcast "Black Girl You've Been Gentrified," presented as part of "Wanderlust Wednesdays," its signature monthly showcase for innovative voices and thought leaders across a range of disciplines. On January 26, host Alana Casanova-Burgess celebrates the launch of the second season of the English/Spanish podcast La Brega, with live music and dancing. Drag artist and violinist Thorgy Thor, known best for her appearances on RuPaul's Drag Race, will be joined on January 27 by special guests for an evening of music and laughter.
Additional events and more information below.
WANDERLUST WEDNESDAYS
January 11: "Ask Aphrodite: Advice on Love and Copper" with Marisa Morán Jahn
Artist Marisa Morán Jahn kicks off the new season of the Wanderlust Wednesdays series with "Ask Aphrodite: Advice on Love and Copper." Jahn hosts the salon as her alter-ego, Aphrodite, goddess of love and copper, who answers questions about relationships, betrayals, and revelations. She is joined by Sara Dahmen, award-winning writer and coppersmith, Dave Maiullo, educator and physicist, and Chikako Takeshita, author of The Global Biopolitics of the IUD, who examine the use of copper in reproductive technology for the last several millennia.
February 8: "Black Girl You've Been Gentrified" with Nichole Thompson-Adams and Epoch Films
Nichole Thompson-Adams and Epoch Films present a live reading of the pilot episode of their podcast, "Black Girl You've Been Gentrified,"  which details the harrowing yet hilarious ironies of Thompson's precarious life—selling brownstones to rich white folks in her native Brooklyn as she struggles to keep her kids in elite "progressive" schools in Manhattan. Starring Thompson-Adams, Sage Adams, and directed by Zhailon Levingston. A panel discussion and audience Q&A featuring art influencer and writer Kimberly Drew will follow.
March 8: Rob Lewis and Ash Rodriguez
Live music producers and curators Rob Lewis and Ash Rodriguez host an evening of performances and conversations with young artists who are poised to impact the music scene in New York City and elsewhere. With over 30 years of combined experience in the music and television industries, Lewis and Rodriguez have performed with and produced music for global tours, records, and television appearances for superstars like Christina Aguilera, Lana Del Rey, Toni Braxton, John Legend, New Kids On The Block, Sean "Diddy" Combs, and many more. Individually, they have been featured as on-air talent for MTV's Making The Band, VH1's Big Morning Buzz Live, Nickelodeon's America's Most Musical Family, and American Idol. They are founders of 19 in the 4th Creative Collective, an artist development, live events, and multimedia production company based in NYC.
LIVE PODCAST LAUNCHES 
January 26: La Brega, Season
WNYC Studios and Futuro Studios present the launch party for Season 2 of La Brega. Host Alana Casanova-Burgess is joined by Puerto Rican experimental indie electronic band Balún and DJ Christian Mártir for a night of music and dancing in celebration of the new season.
February 23: Every Voice with Terrance McKnight
WQXR celebrates the launch of the new podcast, Every Voice with Terrance McKnight. Special guests and musical artists to be announced.
WQXR PRESENTS
January 27: Queen of the Night with Thorgy Thor
WQXR's first event of the season features drag performance artist and violinist Thorgy Thor for an evening of laughter, music, and campy fun with musical guests, games, and drinks, as we start off the new year and do a mental health check-in! Thorgy Thor is an NYC-based drag performance artist, professional musician, and TV host. She was a contestant on the Emmy Award-winning show RuPaul's Drag Race and is a cast member of Dragnificent! on TLC/Hulu. She is a multi-instrumentalist, playing violin, viola, and cello in Thorgy and the Thorchestra! Joining Thorgy is singer Lucy Dhegrae, cellist Zlatomir Fung, and clinical psychologist Dr. Monica Johnson.
"The Greene Space's winter lineup features a diverse group of artists and storytellers whose dynamic and multiplatform performances promise to entertain audiences in person and online. This season deepens our ongoing commitment to offer New Yorkers a wide range of artistic, educational, and musical programming," said Kristina Newman-Scott, Executive Director of The Greene Space.
Additional information and tickets for each event may be found at https://thegreenespace.org/events/. Additional events will be announced throughout the Winter.
Lead philanthropic support for The Jerome L. Greene Performance Space is provided by The Jerome L. Greene Foundation. Additional support for The Greene Space comes from the Howard Gilman Foundation, MetLife Foundation, the Virginia B. Toulmin Foundation and public funds from the New York City Department of Cultural Affairs in partnership with the City Council.
ABOUT THE JEROME L. GREENE PERFORMANCE SPACE 
The Greene Space is New York Public Radio's intimate performance space and multiplatform production studio with a mission to channel the collective genius of New York City to produce forward-looking live art, theater, and journalism that sparks change. It provides a space for fostering artistic experimentation and exploration, convening challenging conversations and forging connections between New York City's diverse communities. Since 2009, The Greene Space has hosted luminaries including Janelle Monáe and The National, actors Frances McDormand and the late Philip Seymour Hoffman, writers Nikki Giovanni, Hilton Als, and Roxane Gay, and newsmakers Mayor Bill de Blasio and Chelsea Manning, among many others. For more information, visit www.thegreenespace.org.