WNYC Studios' "Death, Sex & Money" Presents New Three Episode Series on "Estrangement"
New three-part series spotlights personal stories of estrangement from friendships, family, and religion, and what comes after our closest relationships become the most distant
Debuts on Wednesday, November 30
with additional episode drops on December 7 and December 14
Listen to the audio trailer here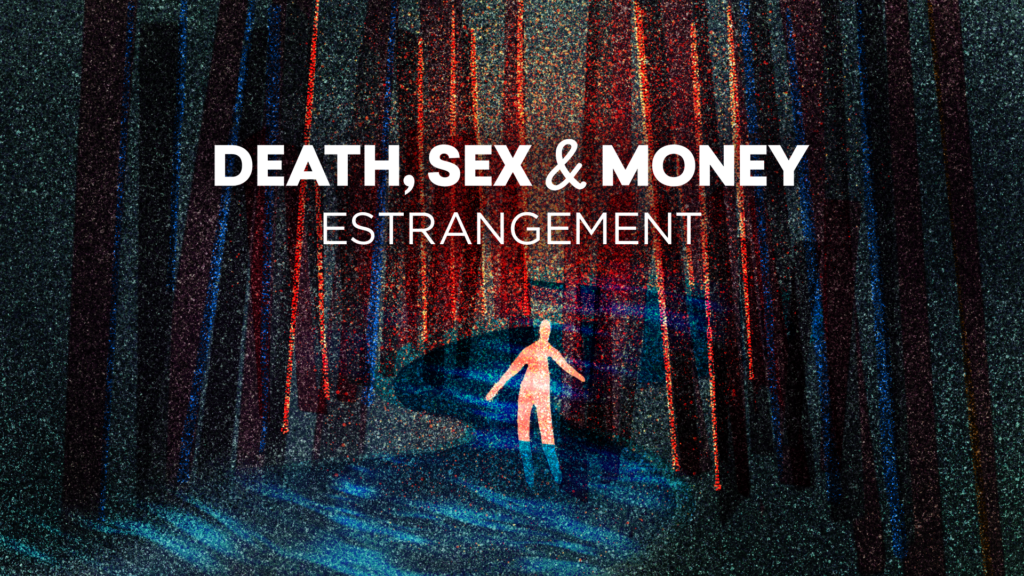 (New York, NY – November 23, 2022) – On Wednesday, November 30, Death, Sex & Money–a WNYC Studios podcast about the big questions and hard choices left out of polite conversation–debuts a new three episode series, "Estrangement." Ahead of the holidays, a time that can sharpen the pain of severed connections, host Anna Sale shares listeners' stories of breaking apart, some by choice, others involuntarily and still desperately wishing for contact. Whether it's cutting family ties, ending friendships, or leaving a religion, this three-part series explores the moments that led to estrangement, and explores what comes after—a search within, building new traditions or finding a chosen family.
"At Death, Sex & Money, we've long looked to our listeners to guide us toward the stories they long to share and need to hear from others. Over the years, that's included our secrets about student loan debt, ambivalence about alcohol, and even our complicated relationships with porn," said Anna Sale. "These stories about estrangement share that same urgency and poignancy, especially in this time of broad societal fractiousness. Hundreds of people shared private stories when we asked. Many told us that they wanted to participate and be candid because they know how isolating experiences of estrangement can be."
Episode descriptions are as follows:
November 30: To Stay or Go: Estrangement Purgatory
The series opens with a story of a painful and seemingly impossible choice—when the community you were entrenched in no longer aligns with who you are, how do you leave? Brian doesn't believe in the religion he was raised in, yet leaving it means losing his family. In the first episode of Estrangement, Anna talks through the stakes—what could be gained by cutting ties, and what feels impossible to lose.
December 7: Then I Blocked Them: How Estrangement Became Official
Anna speaks to several listeners about their experiences becoming estranged—how it might have been a long time coming, but the choice to break away was abrupt. Juan was kicked out of a group chat; Dinona sent a text to her siblings; Megan received a surprise note on her doorstep from her daughter; and, in Sonia's case, she blocked her parents' numbers and hasn't been in touch since.
December 14: Estrangement's Alternate Endings
The series concludes by considering how estrangement continues to take shape years after the initial break and throughout one's life. For Siobahn, being estranged from her children means slowly building a new identity, while another listener, Juliet, finds she can reconcile with her mother at the last stages of her life. Finally, Kristen, who has been estranged from her mother since she was a teenager, is now pregnant, and thinking about what it means to have a relationship with her child that is different from her own experience.
Death, Sex & Money is available at https://www.wnycstudios.org/podcasts/deathsexmoney and all other platforms where podcasts are available.
ABOUT WNYC STUDIOS
WNYC Studios is the premier producer of on-demand and broadcast audio, and home to some of the industry's most critically acclaimed and popular podcasts, including Radiolab, On the Media, The Takeaway, The New Yorker Radio Hour, Death, Sex & Money, La Brega: Stories of the Puerto Rican Experience and Dolly Parton's America. WNYC Studios is leading the new golden age in audio with podcasts and national radio programs that inform, inspire, and delight millions of curious and highly engaged listeners across digital, mobile, and broadcast platforms. Programs include personal narratives, deep journalism, revealing interviews, and smart entertainment as varied and intimate as the human voice itself. For more information, visit wnycstudios.org.