WNYC Studios' "On The Media" Presents "The Divided Dial"
Five-part podcast series about how the American right came to dominate talk radio — and how one company is using the airwaves to launch a right-wing media empire
Debuts today, with weekly episode drops through December
Listen to the first episode here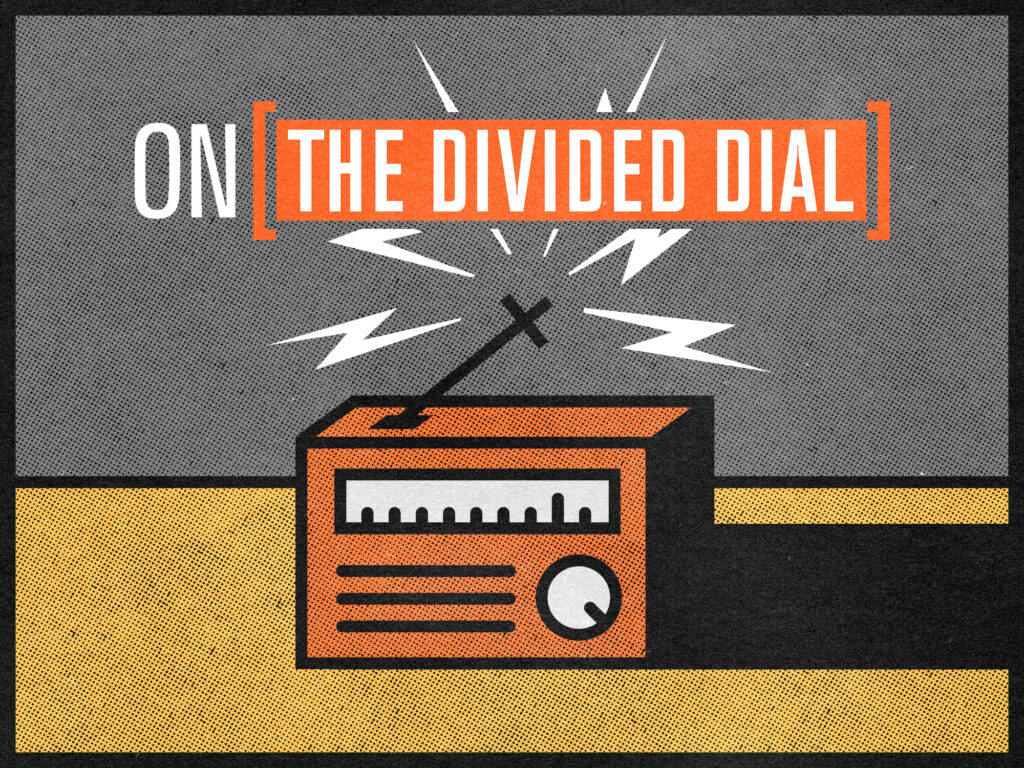 (New York, NY – November 15, 2022) – Beginning Tuesday, November 15th, On The Media – WNYC Studios' Peabody Award-winning public radio show and podcast – debuts a new, five-part podcast series, "The Divided Dial."
"The Divided Dial" charts the growth of broadcasting company Salem Media Group — a once small, conservative Christian radio network that quietly expanded their reach in far-right media through the hard to monitor, difficult to fact check, and minimally scrutinized medium of talk radio. With holdings of over 100 radio stations (many in the top 25 markets) and shows syndicated to over 3000 stations across the country, the series uncovers how Salem exerts influence behind many conservative figures in America — while receiving considerably less media attention than other far-right news sources.
The series also puts Salem's growth in the context of nearly nine decades of radio history, illuminating how conservative dominance of the airwaves was aided by long-term regulatory erosion and strategic pressure from the right.
"The Divided Dial" is reported and hosted by award-winning multimedia journalist Katie Thornton and edited by Katya Rogers, Executive Producer of On the Media. Voices in the series include media observers, religious experts, and a rare on-the-record interview with Salem Senior Vice President Phil Boyce. Other guests include:
Reporter, professor, and author Anne Nelson
Historian, professor, and author Nicole Hemmer
Former FCC counsel and academic Mark Lloyd
Historian and religious expert John Fea
Former 700 Club Executive Producer Terry Heaton
Scholar, journalist, and author Brian Rosenwald
Journalist Adam Piore
"Pundits and media personalities alike have long predicted the death of radio, but nearly a century since its rise to dominance, it still has higher reach than television, is nearly neck and neck with social media for how Americans get their news, and continues to exert enormous influence over public opinion and politics in America. At the same time, talk radio is difficult to sift through and often ignored by major media outlets, making it a perfect medium for the spread of dangerous falsehoods and extreme rhetoric," said Katie Thornton, host of the series. Salem represents a critical intersection of an under-scrutinized media platform with an increasingly radical political perspective — and the story of the company provides a unique lens into the broader history of conservative and religious right radio in the US."
Episode descriptions are as follows:
November 15: The True Believers
In 2016, Christian talk radio host Eric Metaxas begrudgingly encouraged his listeners to vote for then-presidential candidate Donald Trump. By 2020, he pledged his life to fighting the "stolen election" while talking with Trump on the air. Ahead of the midterm elections, Metaxas and many of his fellow talk radio hosts made sure the falsehood of massive 2020 election fraud was top of mind — on the airwaves and beyond. Now, at least 170 election-denying candidates have been elected to U.S. House and Senate seats and statewide offices, some of whom will be in charge of future elections. We meet the company whose hosts never backed down from the lies of the stolen 2020 election: Salem Media Group, the largest Christian, conservative multimedia company in the country – and perhaps the most influential media company you've never heard of.
November 22: The Connected Company
Katie traces Salem Media Group's roots to discover how the little-known company came to have an outsized political influence. Salem's history parallels the growth of the religious right — and the company is tightly networked with right-wing political strategists, pollsters, big donors, and Republican party mainstays, thanks to their involvement with a secretive group of evangelical and conservative leaders. For decades, the religious right has worked behind the scenes to get a specific, highly influential subset of voters to act — and Salem has been one of their megaphones.
November 29: The Unruly Airwaves (Backstory Pt. 1)
Despite members of the right-wing media ecosystem purporting to be embattled underdogs amidst a sea of liberal mainstream media outlets, on talk radio, far right and conspiratorial programming is well-platformed. Episode three calls into question how the right got a hold over the airwaves, even while arguing that they were being silenced and censored by a liberal media. Katie explores the early history of American radio and comes to find that, in the post-war and Civil Rights period (thanks largely to the work of Civil Rights activists), the U.S. government encouraged more diverse viewpoints on the airwaves — until it didn't.
December 6: How the Radio Went Right (Backstory Pt. 2)
In the 1970s, talk radio was hitting its stride, with hosts and listeners being amplified from all political persuasions. In the next two decades, however, the hard-fought policies that helped ensure that diversity – community needs assessments, requirements to offer public service programs and multiple perspectives, and limits on how many stations a single company could own – all went away. These changes, combined with technological and legal changes that consolidated the radio industry, sent conservative talk radio up-and-comer Rush Limbaugh soaring. In this episode, Katie looks at radio's last four decades to understand how we got to where we are today, and the specific political choices that allowed conservative talk radio to dominate a medium that once thrived on varied viewpoints.
December 13: The Future
Highly politicized, partisan companies like Salem have a hold on the airwaves, and they don't plan to give it up. Salem's Senior Vice President Phil Boyce speaks to Katie candidly about the personalities he handpicked to spread Salem's message and about the company's plans to expand into the media world off the airwaves. And we ask the perennial question: it seems propagation of lies is a solid business model — but is it legal? On the public airwaves, the answer may be no.
On the Media is WNYC's weekly investigation into how the media shapes our worldview. It has won two Peabody Awards, was the first national public radio show to be offered as a podcast, and now airs on 425 public radio stations. It is available at https://www.wnycstudios.org/podcasts/otm and all other platforms where podcasts are available.
Katie Thornton is an award-winning multimedia journalist and Fulbright Fellow. She has written and produced work on various current events and public history subjects, including architecture, the healthcare industry, communications infrastructure, and amusement parks. Her written articles and essays have run in The Atlantic, The Washington Post, The Guardian, Bloomberg's CityLab, National Geographic, and others, while her audio stories and documentaries have appeared on 99% Invisible, BBC, NPR, Minnesota Public Radio, and more. She got her start in media as a teenager, volunteering and working behind the scenes at radio stations for many years.
ABOUT WNYC STUDIOS
WNYC Studios is the premier producer of on-demand and broadcast audio, and home to some of the industry's most critically acclaimed and popular podcasts, including Radiolab, On the Media, The Takeaway, The New Yorker Radio Hour, Death, Sex & Money, La Brega: Stories of the Puerto Rican Experience and Dolly Parton's America. WNYC Studios is leading the new golden age in audio with podcasts and national radio programs that inform, inspire, and delight millions of curious and highly engaged listeners across digital, mobile, and broadcast platforms. Programs include personal narratives, deep journalism, revealing interviews, and smart entertainment as varied and intimate as the human voice itself. For more information, visit wnycstudios.org.