Piehole Presents "Christmas Mountain"
A 21- Day Multimedia Holiday Story that Comes to Life Through Hand-Crafted Animatronics, Original Music, and Video Displays in the Windows of The Greene Space at WNYC and WQXR in SoHo
WNYC's Brian Lehrer narrates the tale of a town of mice scurrying to fix their TV signals in time for the longest night of the year, the Winter Solstice
A new episode rolls out every day from December 1-21
Full exhibit remains on display through January 9
Viewable in person and online
Kick-off Event Thursday, December 1 at The Greene Space
Doors open 6pm; Festivities begin 6:30pm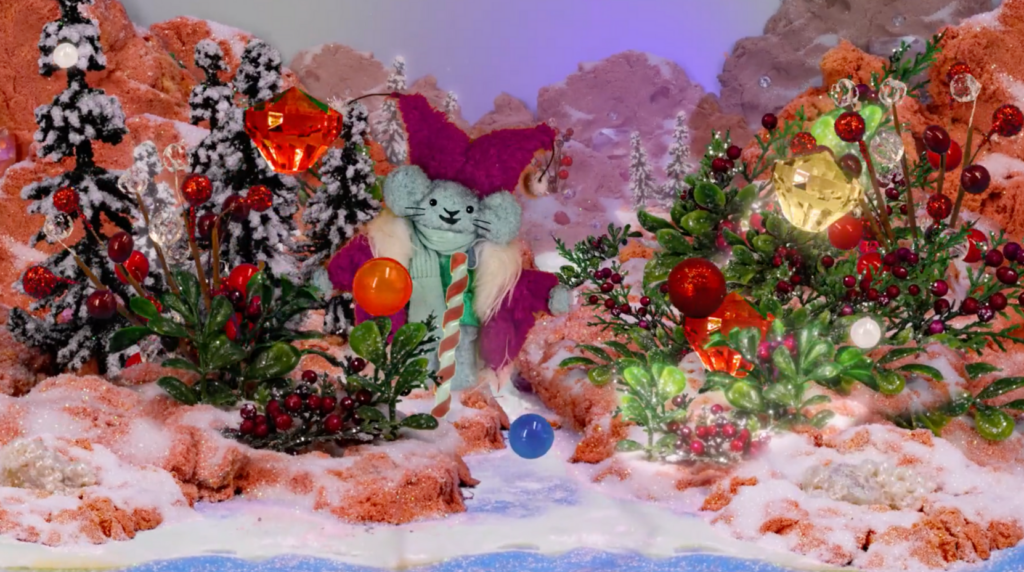 (New York, NY – November 14, 2022) Piehole's Christmas Mountain—an interactive holiday story that rolls out in a daily, "advent calendar" window display featuring animatronics, embedded videos, and original music on a handcrafted diorama—appears this December in the windows of The Greene Space at WNYC and WQXR in SoHo / Hudson Square.
The story of Christmas Mountain unfolds in-person for passersby and viewers online at xmasmountain.com for 21 days, culminating on the Winter Solstice on December 21. The full exhibition remains on display through Monday, January 9. Christmas Mountain kicks off on Thursday, December 1 with an opening night celebration featuring the debut of the first episode and a brief panel discussion on the history of Christmas celebrations in NYC that inspired the project, along with festive treats and revelry.
WNYC host Brian Lehrer narrates the story that takes place in a snowy hamlet populated by mice at the base of Christmas Mountain, which is topped by an antenna that funnels signals from the "Christmas-sphere" into the town and onto the mice's TVs. This year, the signal is on the fritz, and one grumpy mouse–the story's hero–must descend to the center of the mountain to fix it so that the town can fulfill their beloved pastime of watching TV on the Winter Solstice. The clock is ticking! Along the way, our plucky hero encounters adventure at every turn, including a visit to a magical costume shop, a ride with a benevolent bus full of nuns, and broadcasts from an alternate Crust-mas dimension.
In creating this family-friendly installation—which drew inspiration from a range of Christmas traditions throughout history—Piehole has brought together the work of over 20 artists from different disciplines, backgrounds and aesthetics, who convey the delightful, layered, incongruous, kitschy, profound and fraught aspects of this seemingly monolithic holiday. In Christmas Mountain, a holiday we think we know becomes a journey into the unknown.
"I want Christmas Mountain to be something that a kid sees, and 20 years later, they wonder if it was a dream," said Piehole designer Jeff Wood.
"Our goal at The Greene Space is to create inclusive experiences that spark curiosity, joy, and unexpected connections," says Jennifer Keeney Sendrow, Executive Producer, The Greene Space. "With an endearing story narrated by the beloved Brian Lehrer, brilliant visuals, and 24/7 in-person and online accessibility for the duration of the exhibition, Christmas Mountain does all of that. We're thrilled to partner with Piehole to bring some cheer this holiday season."
*****
WHAT: CHRISTMAS MOUNTAIN 
Narrated by WNYC's Brian Lehrer
WHEN: New episodes December 1-21; Full exhibition on display through January 9
Opening Night Celebration on Thursday, December 1; doors open 6pm, event starts 6:30pm; info here
WHERE: The windows at The GREENE SPACE AT WNYC AND WQXR
44 Charlton (corner of Charlton & Varick Streets)
1 train to Houston Street; C/E to Spring Street 
COST: FREE
About Piehole
Piehole (Jerome Finalist 2021) is an NYC live arts collective driven by an ongoing pursuit of surprise, delight and beauty in unexpected places. Since 2008, Piehole has produced boundary-pushing live art for theaters, galleries, and digital spaces, including collaborations with the LA-based Tender Claws in AR and VR: Tendar (Sundance 2018) and The Under Presents (Oculus, Sundance 2019, Emmy Finalist). Piehole's latest work Disclaimer (Drama League Award Nominee, NYC Women's Fund) premiered at The Public's Under the Radar 2021. Piehole's core group: Tara Ahmadinejad, Alexandra Panzer, Emilie Soffe, Ben Vigus, and Jeff Wood. To learn more about Piehole, visit pieholed.com.
About The Jerome L. Greene Performance Space
The Greene Space is New York Public Radio's intimate performance space and multiplatform production studio with a mission to channel the collective genius of New York City to produce forward-looking live art, theater, and journalism that sparks change. It provides a space for fostering artistic experimentation and exploration, convening challenging conversations and forging connections between New York City's diverse communities. Since 2009, The Greene Space has hosted luminaries including Janelle Monáe and The National, actors Frances McDormand and the late Philip Seymour Hoffman, writers Nikki Giovanni, Hilton Als, and Roxane Gay, and newsmakers Mayor Bill de Blasio and Chelsea Manning, among many others. For more information, visit www.thegreenespace.org.