Rajath Vikram and Clayton Guse Join WNYC Newsroom
Read more in this note from Deputy Editor Stephanie Clary, Director of Audio Strategy Sean Bowditch, and NYC Accountability Editor Stephen Brown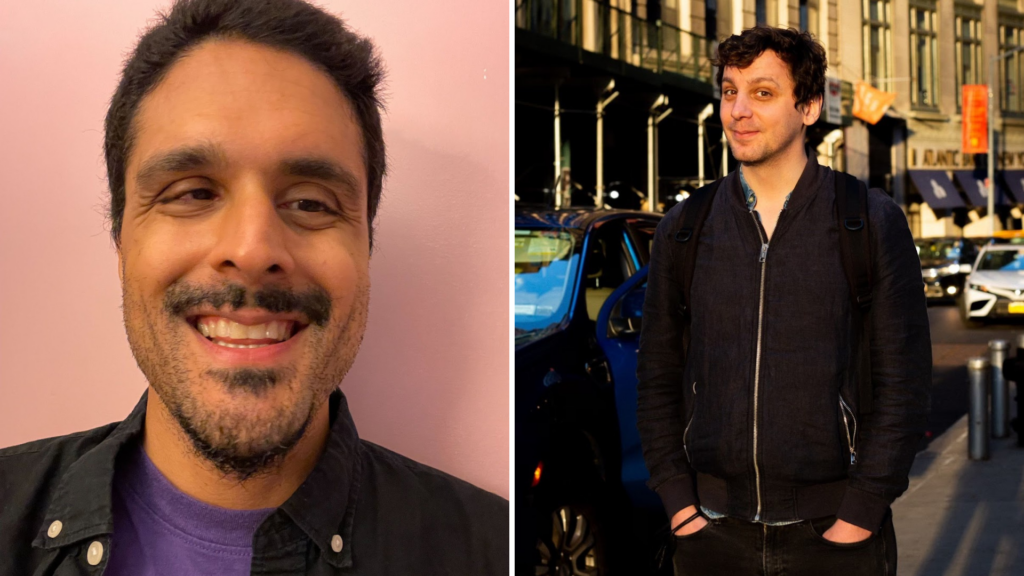 We're thrilled to announce two new hires in the WNYC/Gothamist newsroom!
Rajath Vikram is joining the newsroom as Editor of Magazine Shows & Newscast. In this role, he'll oversee the teams that produce the local WNYC editions of Morning Edition and All Things Considered. He'll also work closely with the beat desks to ensure our newscasts are robust and up to date, and that we're consistently offering our broadcast audience a compelling range of news and information.
He started his professional radio career as an intern at 1010 WINS. He later rose to news producer, learning from veteran editors and reporters like Stan Brooks. He then served in a variety of editorial and production roles at WPIX-11 News, covering stories including the 2005 New York City transit strike and the death of Sean Bell. In 2007, Rajji began a 14-year run at NY1 News, where he worked as an assignment and planning manager. His teams covered everything from Hurricane Sandy to the global movement for police reform to stories of NYCHA tenants and hate crime victims. In 2021, he took on a new challenge, joining the firm Anat Gerstein as a Senior Account Executive. In that role, he worked closely with nonprofit organizations on their communication strategies.
Rajji's path to WNYC stretches all the way back to the 1980s. As a kid, he remembers vividly when his older sibling called into a WNYC show called "Kids America" to answer a trivia question. Rajji scampered to the other room to turn on the radio to hear the call live on the air! His love for the medium was born and to this day, WNYC is always on.
Rajji is a member of the Asian American Journalists Association and a graduate of their Executive Leadership Program. He attended Sarah Lawrence College and currently lives in Brooklyn. Rajji's first day is November 14.
Clayton Guse is joining the NYC Accountability team as the assistant editor, where he will edit education, transit and sanitation stories from reporters on the desk, which examine how local government operates and where it falls short. He will also steer data-driven coverage and do some reporting on the team.
Clayton has been the transit reporter at the New York Daily News since 2019, covering how New Yorkers get around the city and the policy decisions that shape commutes. His coverage has highlighted inequities in Brooklyn's bus network, exposed political motivations behind MTA shake-ups, and told the stories of homeless New Yorkers who died in the subways. During the height of the pandemic, Clayton covered the toll on transit workers and the impact of the first ever overnight closure of the subway system.
Prior to joining the Daily News, Clayton was an editor at Time Out New York. A native of the Chicago area, he's also covered crime and transit in the Windy City and worked at the Chicago Sun-Times. Clayton's first day is October 31.
Please join us in welcoming Clayton and Rajji!
-Steph, Sean, and Stephen