New York Public Radio's 2022 Annual Gala To Honor
WNYC's BROOKE GLADSTONE
Evening Hosted By SAMANTHA BEE
With Musical Performance by KRONOS QUARTET
Wednesday, November 9 At New York City's Iconic Plaza Hotel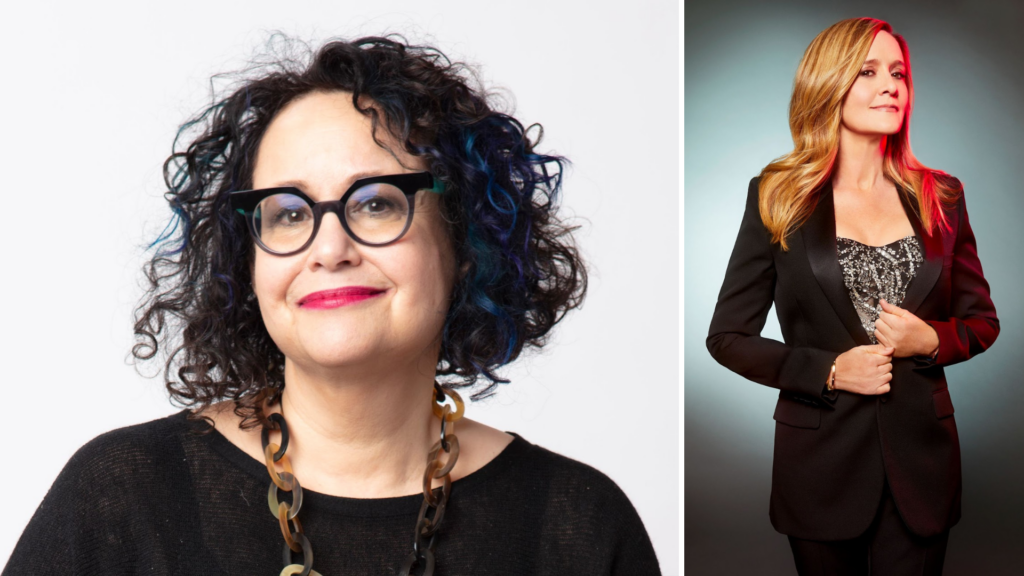 New York Public Radio – home of WNYC, WQXR, WNYC Studios, Gothamist, and The Jerome L. Greene Performance Space – will hold its 2022 annual gala on Wednesday, November 9. The evening will honor host and managing editor of WNYC's On the Media Brooke Gladstone, one of the pioneering female voices in public radio. Samantha Bee, comedian, writer and former host of Full Frontal with Samantha Bee, will host the evening, with a musical performance by the Grammy Award-winning Kronos Quartet. Tickets & more here.
New York Public Radio's biggest fundraiser of the year will be held at The Plaza Hotel, where it celebrated its 20th anniversary of two-time Peabody Award-winning podcast Radiolab last year with host Julianna Margulies in 2021.
This year's NYPR gala honoree Brooke Gladstone is the host and managing editor of On the Media – WNYC's weekly investigation into how the media shapes our worldview. She started her career in public radio at National Public Radio in 1987, first as Senior Editor of NPR's Weekend Edition with Scott Simon, and later, All Things Considered. By 1991 she had received a Knight Fellowship to study Russian language and history, and a year later began reporting from Moscow for three years. After moving back to New York, she inaugurated NPR's first-ever media beat. She joined WNYC in 2000 to become host of On the Media, which under her leadership has won two Peabody Awards, was the first national public radio show to be offered as a podcast, and now airs on 425 public radio stations.
Her published works are The Influencing Machine (included in The Atlantic's "10 Masterpieces of Graphic Nonfiction") and The Trouble with Reality. She also has a National Press Club Award, an Overseas Press Club Award, an Honorary Doctorate from The New School and Front Page Award for Radio In-Depth Reporting, among others.
Emmy Award-winning comedian and political commentator Samantha Bee is best known for being one of the only female late night hosts, with Full Frontal with Samantha Bee and her work on The Daily Show with Jon Stewart, where she was the longest-serving regular correspondent. In 2017, she was named one of TIME's Most Influential People, and has published three books, plus appeared in a variety of film, television and stage productions.
Samantha Bee will host this year's New York Public Radio gala, which will feature a cocktail party and seated dinner, with performances and speakers across New York Public Radio's most celebrated programs such as WQXR, On the Media and more. The evening will include a performance by the Grammy-winning Kronos Quartet. For nearly 50 years, San Francisco's Kronos Quartet and its nonprofit Kronos Performing Arts Association have reimagined the string quartet experience through thousands of concerts, more than 70 recordings, collaborations with performers across myriad genres, and more than 1,000 commissioned works from composers worldwide.
NYPR's annual Gala is its largest fundraising event of the year—celebrating the vital and illuminating work produced across New York Public Radio and the generous supporters who make it all possible. Past Gala performers and hosts include Julianna Margulies, Kishi Bashi, Aidy Bryant, John Turturro, Hilary Hahn, Wynton Marsalis, Ira Glass, Cynthia Nixon, Renee Fleming, and Brian Stokes Mitchell.
About New York Public Radio
With an urban vibrancy and a global perspective, New York Public Radio (NYPR) produces innovative public radio programs, podcasts, and live events that touch a passionate community of fans on air, online and in person. From its state-of-the-art studios in New York City, NYPR is reshaping radio for a new generation of listeners with groundbreaking, award-winning programs including Radiolab, On the Media, The Takeaway, The United States of Anxiety, Death, Sex & Money, The New Yorker Radio Hour, Carnegie Hall Live, Aria Code, and Helga, among many others. New York Public Radio includes WNYC, WQXR, WNYC Studios, Gothamist, The Jerome L. Greene Performance Space, and New Jersey Public Radio. Further information about programs, podcasts, and stations may be found at www.nypublicradio.org.