WNYC Studios Introduces: "Notes from America with Kai Wright"
Formerly known as The United States of Anxiety, Notes from America expands the local radio program and podcast into a nationally-syndicated show for public radio stations
Weekly call-in show invites listeners across the country to participate in conversations about the biggest issues of our time
Debuts nationally on SUNDAY, SEPTEMBER 25 on over 40 public radio stations, including WNYC and New Jersey Public Radio, Minnesota Public Radio, and New Hampshire Public Radio
(check local listings)
Airs Sundays on WNYC 93.9 FM, AM 820 and www.wnyc.org at 6pm ET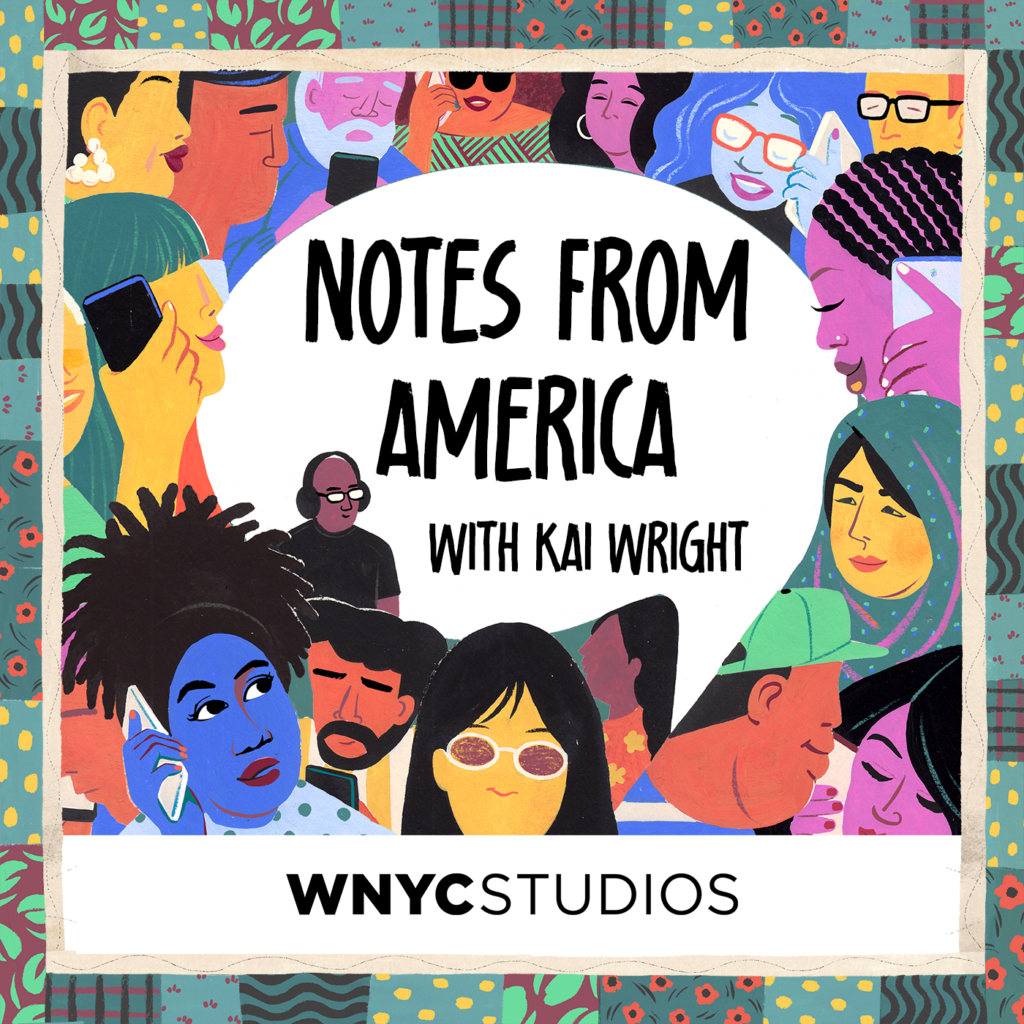 (New York, NY – September 16, 2022) – Beginning Sunday, September 25, WNYC Studios' The United States of Anxiety expands from a local New York City radio program and podcast into a nationally-syndicated live radio show available to public radio stations.
As part of this expansion, the show will now go by Notes from America with Kai Wright, a new name that reflects its national presence, inviting a broader audience to engage together in its popular call-in format. The show will continue its commitment to facing the unfinished business of our history and its grip on our future — but with a fresh focus on finding solutions. Each week, Wright will convene intimate conversations about race, power, democracy and the most urgent issues of our time — putting them in historical and cultural contexts, while simultaneously providing a space for listeners to share how these issues impact their lives on a personal level.
In coming weeks, Notes from America will focus coverage on midterm elections and the context for this pivotal moment in our political history. Forthcoming episodes will unpack the many theories about how America got to this moment — and how the nation can move forward as a multiracial democracy. The show will explore fundamental shifts over the past decade in the economy, politics, media, religious movements, and more. Wright's fundamental questions include: how did each of these shifts lead us to today's challenges and choices? And how will the choices we make today echo into the future?
Notes from America makes its national debut on Sunday, September 25th at 6pm ET on WNYC and New Jersey Public Radio, Minnesota Public Radio, New Hampshire Public Radio, WUIS (Springfield, IL), WJFF (Catskill, NY), and WSKG (Binghamton, NY), among others.
"We think of Notes from America as a Sunday evening dinner party, where you stumble into a conversation that sticks with you for the rest of the week," said Kai Wright. "We're inviting listeners to pull up a chair at our table, bring only their open ears and open hearts, and join us in an honest, intimate, and always good faith discussion about what kind of society we want to create together. I'm so excited to extend this invitation to listeners and communities around the country. We have so much to learn from each other about what it means to live in a multiracial democracy."
"We launched Kai's WNYC call-in show in 2020 in the midst of a pandemic and a reckoning with structural racism that radically changed our lives and livelihoods, our culture and discourse, and our sense of personal identity and understanding of shared history," said Kenya Young, Senior Vice President, WNYC Studios. "While the pandemic is diminishing, what hasn't changed is a yearning in an often distressing news environment to go beyond the headlines and process the news together. Notes from America brings the conversations you're having – at your dinner table, in your social circles, and possibly online in 280 characters – to the airwaves, with deeper context and real-time human interaction. I can't imagine a better time or more meaningful platform than public radio to bring Kai's voice to a national audience."
Kai Wright has hosted several national radio specials, including a 2022 Juneteenth celebration produced in partnership with Texas public radio stations. In 2017, Wright was one of the hosts of Indivisible, a national pop-up call-in show produced by WNYC, Minnesota Public Radio, and The Economist, that aired throughout the first 100 days of the Trump presidency. He also hosted two social justice podcast series from WNYC: There Goes the Neighborhood, about gentrification in Brooklyn, and the duPont-Columbia Award-winning Caught: Lives of Juvenile Justice, a look at the lifelong effects of youth incarceration on men of color. Prior to WNYC, Wright worked in print and digital media, including editorial positions at ColorLines, TheRoot.com and The Nation.
Notes from America with Kai Wright airs live at 6pm ET, starting on Sunday, September 25 and is available on demand wherever you get your podcasts. The radio version will also be live streamed to WNYC's YouTube channel, where listeners can watch and contribute to the conversation in real time. In between shows, the conversation continues online at @NotesWithKai on Twitter and Instagram.
Notes from America with Kai Wright is funded in part by the Robert Wood Johnson Foundation.
ABOUT WNYC STUDIOS
WNYC Studios is the premier producer of on-demand and broadcast audio, and home to some of the industry's most critically acclaimed and popular podcasts, including Radiolab, On the Media, The New Yorker Radio Hour, Death, Sex & Money, Dolly Parton's America, and La Brega: Stories of the Puerto Rican Experience. WNYC Studios is leading the new golden age in audio with podcasts and national radio programs that inform, inspire, and delight millions of curious and highly engaged listeners across digital, mobile, and broadcast platforms. Programs include personal narratives, deep journalism, revealing interviews, and smart entertainment as varied and intimate as the human voice itself. For more information, visit wnycstudios.org.