WNYC Announces: "The People's Guide to Power"
Hosted by WNYC and Gothamist Senior Political Reporter Brigid Bergin
A 10-week Election Season live call-in radio series airing Sundays at 12pm on 
WNYC 93.9 FM, AM 820, and www.wnyc.org
Kicks off Sunday, September 11th and runs through the 2022 Midterm Elections
Debut episode's guests include Senator KIRSTEN GILLIBRAND, NY1's ERROL LOUIS,
WNYC's BRIAN LEHRER, City Council Member SHAHANA HANIF,
and community activist MARIAMA JAMES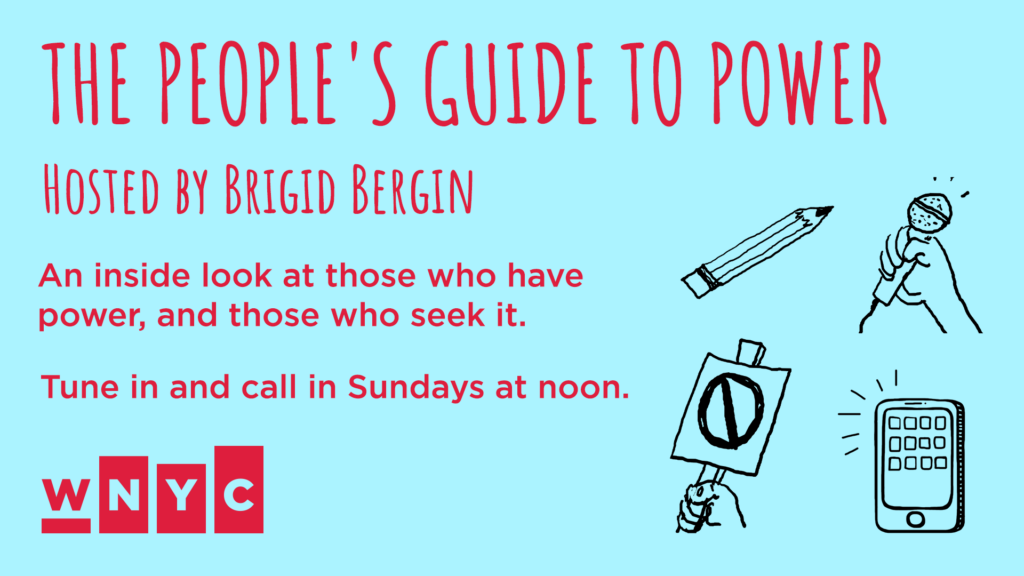 (New York, NY – Wednesday, September 7) – Ahead of this year's midterm elections, WNYC is launching The People's Guide to Power, a 10-week pop-up live call-in radio show hosted by WNYC Senior Political Reporter Brigid Bergin.
Debuting this Sunday, September 11 at 12pm ET, The People's Guide to Power will feature thoughtful conversations with the people who hold power, those who seek it, and the journalists who cover them — and help New Yorkers navigate their right to the foundational act of democracy: the right to vote.
Bergin and guests will cover the issues at stake for New Yorkers, the candidates' positions and promises, how national politics are impacting the local races, and how New Yorkers' votes are cast and counted. Every week, listeners will have a platform to share their thoughts and ask their questions — whether they are active in politics or just getting started.
This week's debut show will feature Senator Kirsten Gillibrand, NY1's Errol Louis, WNYC's Brian Lehrer, City Council Member Shahana Hanif, and community activist Mariama James.
"As a reporter, I'm usually connecting with voters out on the street and in the community," said Bergin. "But this year's races are particularly consequential – both locally and nationally – so I'm excited to have a weekly platform throughout this election season to connect with listeners, leaders and fellow journalists reporting on the frontlines of democracy."
The People's Guide to Power will air live on Sundays at 12pm ET on WNYC 93.9 FM, AM 820, and www.wnyc.org.
ABOUT BRIGID BERGIN
WNYC's Brigid Bergin is an award-winning senior reporter on the People and Power desk. She has been reporting on New York politics, government and elections for more than a decade. Fiercely committed to telling stories that help people engage and support democracy, her reporting has led to multiple federal lawsuits over voting rights violations, leading to changes in state election law and increased oversight of local elections officials. She has appeared on NPR, the BBC, MSNBC, and the former Black News Network, and regularly serves as a guest host on WNYC's The Brian Lehrer Show and The Takeaway.
ABOUT WNYC
With an urban vibrancy and a global perspective, WNYC is New York's public radio station, broadcasting and streaming award-winning journalism, groundbreaking audio programming and essential talk radio to the city and beyond. WNYC is a leading member station of NPR and broadcasts programs from the BBC World Service, along with a roster of WNYC-produced local programs that champion the stories and spirit of New York City and the surrounding region. From its state-of-the-art studios, WNYC is reshaping audio for a new generation of listeners, producing some of the most beloved nationally-syndicated public radio programs including Radiolab, On the Media, The New Yorker Radio Hour, and The Takeaway. WNYC broadcasts on 93.9 FM and AM 820 to listeners in New York and the tri-state area, and is available to audiences everywhere at WNYC.org, the WNYC app and through major digital radio services, all made possible through the generous support of our members, donors and sponsors.