Ave Carrillo Named Executive Producer of Local Podcasts; Josefa Velasquez, Reece T. Williams and Arya Sundaram Join WNYC Newsroom
Read more in this note from Editor in Chief Audrey Cooper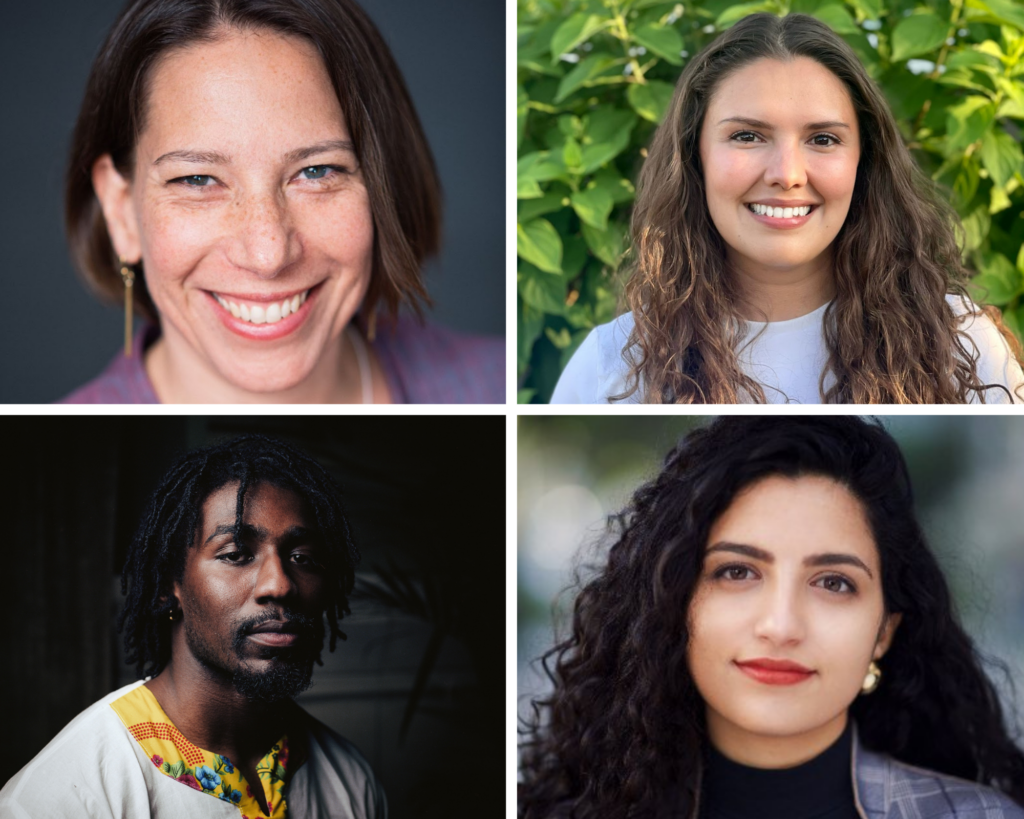 Colleagues:
We're beyond delighted to announce four new colleagues joining us in the WNYC newsroom: Ave Carrillo, Josefa Velasquez, Reece T. Williams, and Arya Sundaram.
As Executive Producer of Local Podcasts, Ave Carrillo will focus on expanding the newsroom's audio storytelling capacity, which will involve setting a podcast strategy, building a production team, and conducting extensive piloting to determine the sound and direction of our on-demand offerings. It's an exciting effort and one that is central to many of our strategic goals. She will report to Sean Bowditch, director of audio strategy, and will start later this summer.
Ave is, of course, a very familiar talent at WNYC. She joins the newsroom from WNYC Studios, where for the last seven years, she's served as Senior Producer of The New Yorker Radio Hour. There, she was a key member of the team that helped shape the editorial direction of the show, making it one of the fastest growing podcasts and radio programs at WNYC. She oversaw the daily operations from the very first day of broadcast, forged bridges between the editorial staff of the magazine and the radio team, and successfully helped introduce print writers to the audio format. Prior to that, she worked for several shows including the Peabody Award-winning program Studio 360 with Kurt Andersen, PRI's Fair Game, Metropolitan Opera Radio and more.
Ave's roots are in art and music. She has a degree in fine art from UC Berkeley, and studied jazz piano performance in the renowned jazz program at The New School, led by bassist Reggie Workman. Ave is a creative producer and editor who brings incredible smarts and a spirit of collaboration to everything she does.
To say we are excited to have her on the team is an extreme understatement.
Josefa Velasquez will be joining as the Economics & Equity Editor, overseeing our coverage of poverty, economic instability, housing, homelessness and the workforce. Her first day is August 8, and she will report to Deputy Editor in Chief Stephanie Clary.
Josefa has been covering New York politics and the state capitol for nearly a decade. She joins us from THE CITY, where her impactful reporting on the working conditions of New York City food delivery workers earned a James Beard Award for investigative reporting and an Edward R. Murrow Award for feature reporting. This coverage led to changes in city law that ensured bathroom access and minimum pay for delivery workers. Josefa has also won a Sidney Award, which honors journalists who pursue investigative reporting and deep storytelling in service of the common good, for her profile of the workers behind Amazon's union drive. Her reporting on inequities in COVID-19 vaccination distribution led to policy changes that made it easier for underserved communities to get access.
She started her journalism career as a reporter for The Associated Press in their Albany bureau after graduating from SUNY Albany. She currently lives in Brooklyn, but is adamant that Queens is the best borough. Born in Chile, Josefa immigrated to New York as a toddler and is fluent in Spanish.
Reece T. Williams joins the WNYC newsroom as our first-ever Visuals Editor. He was previously a multimedia producer and visual editor at Newsday, producing both daily and longform image-based stories. He has also worked in, and is very passionate about, audio storytelling. He is excited to step into this new role and to work across the newsroom to expand the visual impact of our work.
Reece is a graduate of the Newmark Graduate School of Journalism at CUNY. Outside of work, Reece is often walking around the city, taking photos, and thinking about how cool everyone looks. His first day is July 25, and he will report to Veronica de Souza, director of digital news and audience.
Arya Sundaram will be joining our newsroom as a Race and Justice Unit reporter. She recently completed the 2021-2022 New York Times fellowship as the inaugural investigative desk fellow, where she was part of a team that won a Pulitzer Prize for a series on deadly police traffic stops. She also reported on the sexual harassment allegations against former Gov. Andrew Cuomo and his relationship with the Time's Up charity.
Previously, Arya covered criminal justice and immigration issues as an intern for the Pittsburgh Post-Gazette, Texas Tribune, and Texas Observer. In Texas, she wrote about how jails skirt inmate death investigations and how a winter storm exacerbated poor conditions in jails, including exclusive video showing snow falling inside a state prison cell. She has also written about the Border Patrol-to-emergency room pipeline for The Atlantic and the rise in undocumented Indian migrants crossing the U.S.-Mexico border for The Guardian. Arya received a degree in American Studies from Yale University. She will report to Race and Justice Unit Editor Herb Pinder. Her start date is August 22.
Please join me in welcoming Ave, Josefa, Reece and Arya to the newsroom!