The Jerome L. Greene Performance Space at WNYC and WQXR Names Pianist EUNBI KIM and Spoken Word Poet STACEYANN CHIN Spring 2022 Artists-in-Residence
Both artists to present four night series of original work in May and June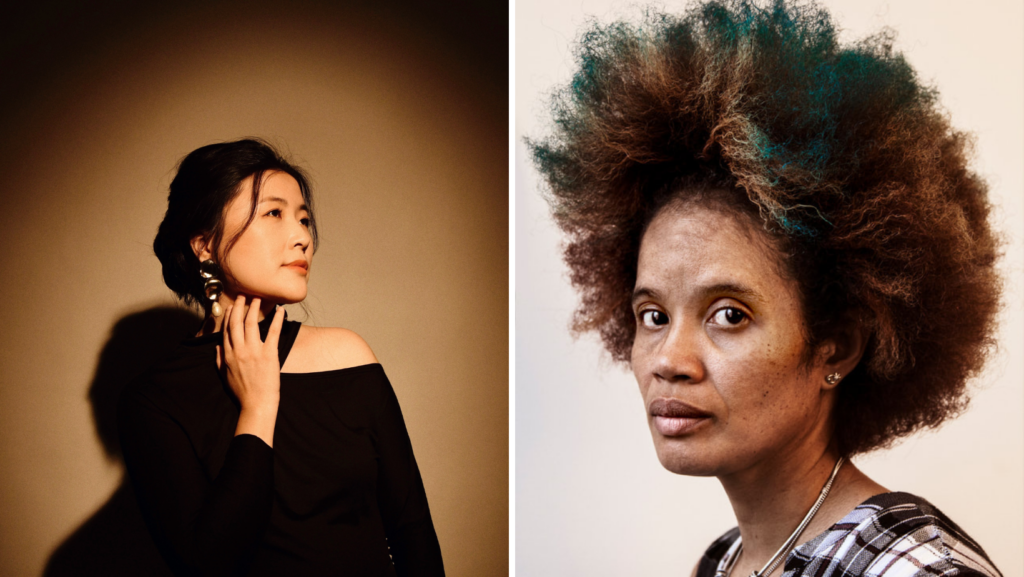 (May 5, 2022 – New York, NY) – The Jerome L. Greene Performance Space at WNYC and WQXR today announced two Artists-in-Residence for Spring 2022: pianist Eunbi Kim and poet, performer and activist Staceyann Chin. Each artist will produce original works presented over four nights in May and June.
From May 16-19, Kim presents It Feels Like, an interactive collage of personal inquiry, taking the audience on a truly creative adventure into a universal experience: the vivid journey of coming into one's own. Kim is known for collaborating with composers, filmmakers, and theater directors to create intimate experiences that transcend the conventions of the piano recital – and It Feels Like shares that spirit of boundlessness. Each evening is built around themes explored in her upcoming album of the same name: MOM, HOME, PLAY and CHAOS. Kim and friends share great music, delicious food, deep conversation, some good jokes and even better dance moves. Guests include astrologer Jonathan Koe aka Nate Qi, electronic flutist Gina Izzo aka ladyybirdd, composer Angélica Negrón, choreographer and DJ Mai Lê, performance artist Carmelita Tropicana, flute and cello combo KOE Duo, musical comedy duo Slanty Eyed Mama, and violinist and author Rebecca Fischer. The series will include two world premieres by composer and multi-instrumentalist (and past Artist-in-Residence) Angélica Negrón and composer Pauchi Sasaki.
Chin is an award-winning spoken-word poet, performer and activist whose work explores topics including homophobia, racism, colonialism and sexuality. This June, during Pride Month, Chin will present four evenings throughout the week of June 20th using story, poetry, music, and other media to expand the concept of home and homecoming.
"Eunbi and Staceyann embody the kind of creative curiosity and fearless experimentation that are the hallmarks of The Greene Space residencies," said Kristina Newman-Scott, Executive Director of The Greene Space. "It is particularly meaningful, after such a challenging time, to be able to gather again in person, to experience live art. It is a joy and a privilege to be able to partner with and support these brilliant artists as they continue to push the boundaries of their practice.
The Greene Space launched its Artist-in-Residence series in 2017 with the rapper and writer Dessa. Other Artists-in-Residence have included composer and pianist Arturo O'Farrill, writer and critic Hilton Als, photographer June Canedo, musician and curator Madison McFerrin, pianist Jeremy Denk, journalist Imara Jones, artist Tatyana Fazlalizadeh and composer and multi-instrumentalist Angélica Negrón.
Additional information and tickets for each series may be found at: https://thegreenespace.org/events/.
Leadership support for The Greene Space's Artist-in-Residence program is provided by the Jerome L. Greene Foundation, the MetLife Foundation, and the National Endowment for the Arts. Additional support is provided in part by: public funds from the New York City Department of Cultural Affairs in partnership with the City Council.
Support for Staceyann Chin's residency is provided by the Virginia B. Toulmin Foundation.
ABOUT THE JEROME L. GREENE PERFORMANCE SPACE
The Greene Space is the street-level broadcast studio and performance venue of WNYC and WQXR, channeling the collective genius in New York City to create forward-looking live art, theater, and journalism that sparks change. Since 2009, The Greene Space has hosted luminaries including Janelle Monáe and The National, actors Frances McDormand and the late Philip Seymour Hoffman, writers Nikki Giovanni and Roxane Gay, newsmakers Mayor Bill de Blasio and Chelsea Manning, among many others. For more information, visit www.thegreenespace.org.