WNYC Studios presents
DEAD END: A New Jersey Political Murder Mystery
Podcast series tells the gripping tale of the unsolved 2014 murder of prominent political couple John and Joyce Sheridan
Hosted by WNYC Reporter Nancy Solomon, "DEAD END" is the Debut Production of WNYC Studios' New Documentary Unit
Seven-Part Weekly Series Launches Tuesday, April 26th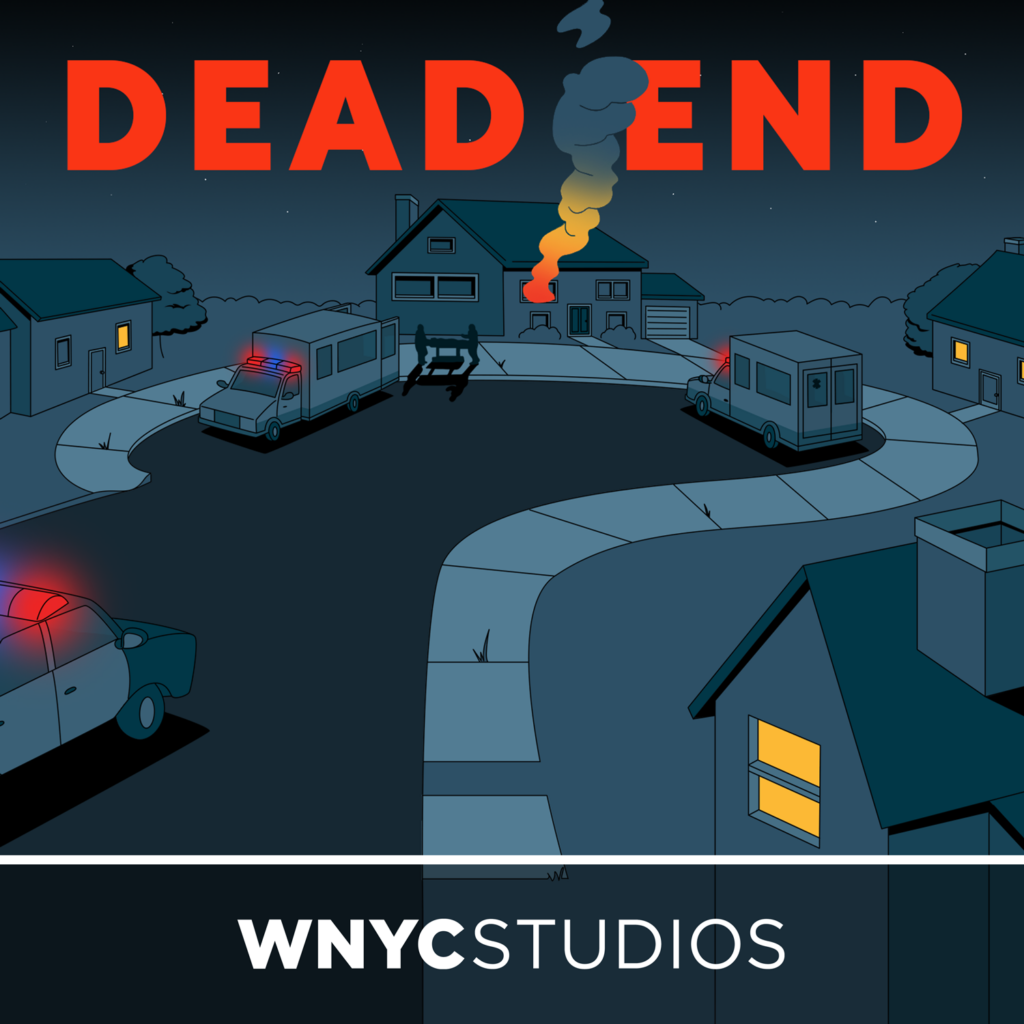 (New York, NY — April 19, 2022) – WNYC Studios today announced the upcoming launch of "DEAD END: A New Jersey Political Murder Mystery" – a seven-part investigative podcast series that delves into the unsolved killing of John and Joyce Sheridan. Hosted by WNYC Senior Reporter Nancy Solomon, "DEAD END" tells the tale of the high-profile murders that had inexplicable oversights in the original investigation, shines a light on new evidence, and raises troubling questions about power dynamics and corruption at the highest levels in New Jersey politics. "DEAD END" debuts on Tuesday, April 26.
On September 28, 2014, former New Jersey Transportation Commissioner John Sheridan was found dead along with his wife Joyce Sheridan in their home in Skillman, New Jersey. The couple were prominent Republican donors who had relationships with some of the most powerful people in the state, including former Governor Chris Christie. Both suffered multiple stab wounds and their house was set on fire. Although authorities initially declared it a murder-suicide, the Sheridans' eldest son, Mark, is consumed with questions and doubt, and takes it upon himself to search for the truth – but encounters roadblocks at every turn.
Solomon – who has been covering New Jersey politics for two decades – takes up Mark's inquiry. Through interviews with former governors, attorneys general, police detectives and a prosecutor who helped take down the New Jersey mob, "DEAD END" examines how the deaths of such a politically-connected couple could be ignored by top law enforcement agencies and left unresolved.
"DEAD END" is the debut production of the WNYC Studios Documentary Unit, a new initiative led by WNYC Studios Vice President Emily Botein, dedicated to producing ambitious, highly-produced non-fiction long-form audio works.
Interviewees include:
Mark Sheridan, the eldest of the Sheridans' four sons, and Peter Sheridan, John's younger brother and federal judge in Trenton since 2005
Friends and neighbors of John and Joyce Sheridan
Gov. Christine Todd Whitman, former governor of New Jersey and EPA commissioner for George W. Bush
Barry Jansen, retired forensic technician for the Somerset County Prosecutor's Office
Barbara Boyer, reporter from the Philadelphia Inquirer who covered the Sheridans
Eddie Rocks, veteran homicide detective and private investigator who retired from the Philadelphia police department
Ed Stier, former member of the NJ Attorney General's Office in the 1960s who investigated and prosecuted organized crime at a time when the mob had infiltrated the government
John Farmer, close friend of John Sheridan and former Attorney General during the Palmyra Tapes investigation in Camden
Jeff Pillets, investigative reporter who reported on NJ political insider George Norcross and his insurance business
"I have been mystified by this case since the Sheridans' deaths in 2014, and I'm eager to tell this story in a way that it hasn't been told before: through the voices of the people closest to it," said Solomon. "An injustice was done to the Sheridan family and it raises troubling questions about New Jersey's political and criminal justice systems."
"We're excited to launch WNYC Studios new documentary unit with a podcast as doggedly reported and carefully crafted as 'DEAD END'," said Emily Botein. "Nancy has spent two decades covering New Jersey – from people in power to people on the street. This podcast reflects her encyclopedic knowledge of the state's social and political landscape, and brings tenacity and humanity to her quest to get answers that are long overdue. 'DEAD END' is both a powerful piece of storytelling and an opportunity to better understand where power sits in the Garden State."
ABOUT NANCY SOLOMON
Nancy Solomon is a senior reporter for WNYC and the founding managing editor of New Jersey Public Radio. She led the team that won a 2014 Peabody Award for "Chris Christie, White House Ambitions and the Abuse of Power." She also hosts WNYC's monthly call-in show "Ask Governor Murphy," with the governor of New Jersey.
Solomon has been covering New Jersey politics since 2001. She has produced more than a hundred stories for NPR and was a 2008-09 Spencer Fellow in Education Reporting at the Columbia University Graduate School of Journalism. That same year, Solomon produced "Mind the Gap: Why Good Schools are Failing Black Students" for which she won a Peabody Award. Solomon began as a radio reporter and producer at KLCC in Eugene, Oregon, in 1995. Before becoming a journalist, Solomon was the first woman ever hired to work on the county road crew in Portland, Oregon.
ABOUT WNYC STUDIOS
WNYC Studios is the premier producer of on-demand and broadcast audio, and home to some of the industry's most critically acclaimed and popular podcasts, including Radiolab, On the Media, The New Yorker Radio Hour, Death, Sex & Money, Dolly Parton's America, The Experiment, and The United States of Anxiety. WNYC Studios is leading the new golden age in audio with podcasts and national radio programs that inform, inspire, and delight millions of curious and highly engaged listeners across digital, mobile, and broadcast platforms. Programs include personal narratives, deep journalism, revealing interviews, and smart entertainment as varied and intimate as the human voice itself. For more information, visit wnycstudios.org.