WNYC Studios' "Death, Sex & Money" Presents "HARD"
New three-part series explores the birth of Viagra, its impact on our understanding and treatment of erectile dysfunction, and how it has come to shape the way we view sex, aging, bodies, and relationships.
Hosted by Death, Sex & Money's Anna Sale
THREE-PART WEEKLY SERIES LAUNCHES TODAY
Listen to the first episode here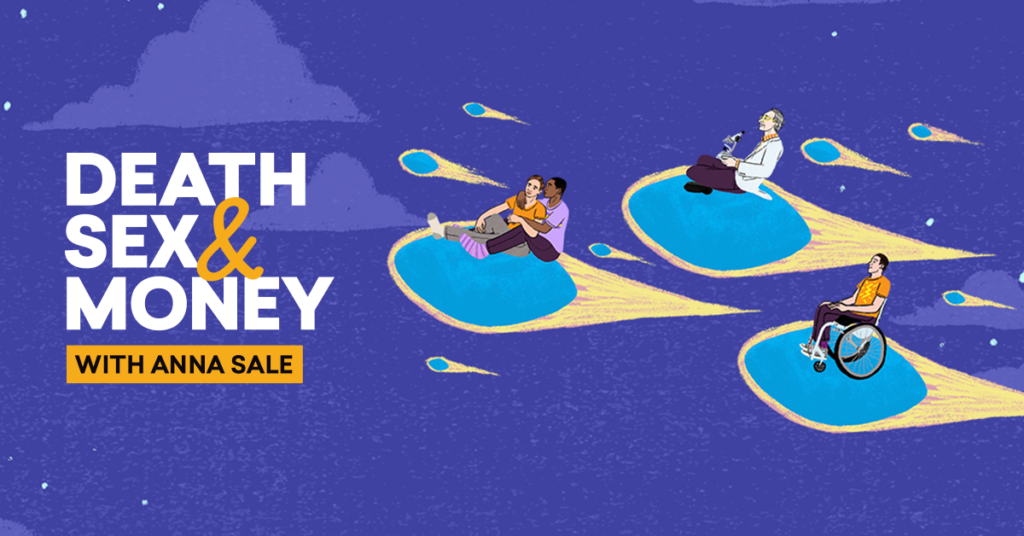 (New York, NY — March 30, 2022) – Today, Death, Sex & Money—a WNYC Studios podcast about the big questions and hard choices left out of polite conversation—debuts a new miniseries, "HARD." Host Anna Sale leads a frank and intimate look at Viagra's influence on relationships and cultural expectations around sex through candid conversations with people (and their partners) who've experienced erectile dysfunction. The series also explores the history of ED medications and speaks to scientists, doctors, sex therapists, marketers and psychologists about how ED treatments have changed over the years, what they've missed, and where they're headed next.
"Nearly a quarter century ago, Viagra transformed the cultural conversation around sex and physiology. Erectile dysfunction came out of the shadows and individuals and couples had a new way to ask for help," said Death, Sex & Money host and managing editor Anna Sale. "But as we learned through more than a year of research and interviews, there are still yawning gaps in the ways many of us understand, and communicate about, intimacy and the ways our bodies do and don't work over time. I'm so proud of this series, which was led by producer Katie Bishop, and the way it opens up possibilities for more nuanced, compassionate dialogue about erections and sex. It doesn't always have to be hard."
Episode descriptions are as follows:
Episode One: Erectile Disappointment
3/30/2022
In episode one of the series, Anna talks with several people and their partners about their varied experiences with erectile dysfunction and Viagra, including Bob and Joanne, a couple in their seventies, who talk very frankly together about all the interventions they have tried to deal with Bob's ED in order to maintain an active sex life, going back to Bob's participation in an early Viagra trial. Anna also talks with the wife of a prostate cancer survivor who has struggled to talk with her husband about his ED; and a gay man in his twenties, whose struggles with ED and unreliable outcomes with ED medication have made him retreat from dating and hooking up.
Episode Two: Inventing the Little Blue Pill
4/6/2022
Viagra was intended to be a chest pain medication. But the drug took an unexpected turn after an overnight study, when patients reported that one side effect in particular was… popping up. In episode two, Anna explores the birth of Viagra and the scientific discoveries about the body that led up to the drug's discovery. Plus, Anna delves into the intentionality around the early marketing of Viagra—when former Senate Majority Leader Bob Dole encouraged men to summon the bravery to talk to their doctors—and we hear how that message has changed over the years.
Episode Three: Erecting A New Paradigm
4/13/2022
Episode three explores big questions about sexual performance and pleasure, and what "successful" sex is. We hear from a sex therapist who says many of her patients think Viagra will solve their sexual problems—and instead realize that fixing the equipment is just one component of a satisfying sex life. Anna also speaks with a disabled gay man who discusses self-acceptance, sex, and differently abled bodies, and shares his evolving thoughts on sex, with or without erections.
From WNYC Studios, Death, Sex & Money is a podcast dedicated to openly discussing the issues often left out of "polite" conversation. Death, Sex & Money topped the Apple podcast chart when it launched and was named an iTunes "Best Podcast of the Year" in 2014. New York Magazine named the show the best podcast of the year in 2015, host Anna Sale won a Gracie Award for best podcast host in 2016, and the show won the 2018 Webby for Best Interview/Talk Show and the Ambie award for Best Interview podcast in 2021.
Death, Sex & Money is available at https://www.wnycstudios.org/podcasts/deathsexmoney and all other platforms where podcasts are available.
About WNYC Studios
WNYC Studios is the premier producer of on-demand and broadcast audio, and home to some of the industry's most critically acclaimed and popular podcasts, including Radiolab, On the Media, The New Yorker Radio Hour, Death, Sex & Money, Dolly Parton's America, The Experiment, and The United States of Anxiety. WNYC Studios is leading the new golden age in audio with podcasts and national radio programs that inform, inspire, and delight millions of curious and highly engaged listeners across digital, mobile, and broadcast platforms. Programs include personal narratives, deep journalism, revealing interviews, and smart entertainment as varied and intimate as the human voice itself. For more information, visit wnycstudios.org.