WQXR Announces New Roster of "Artist Propulsion Lab" Members
APL was founded in 2021 to provide creative opportunities to emerging and mid-career musicians during the pandemic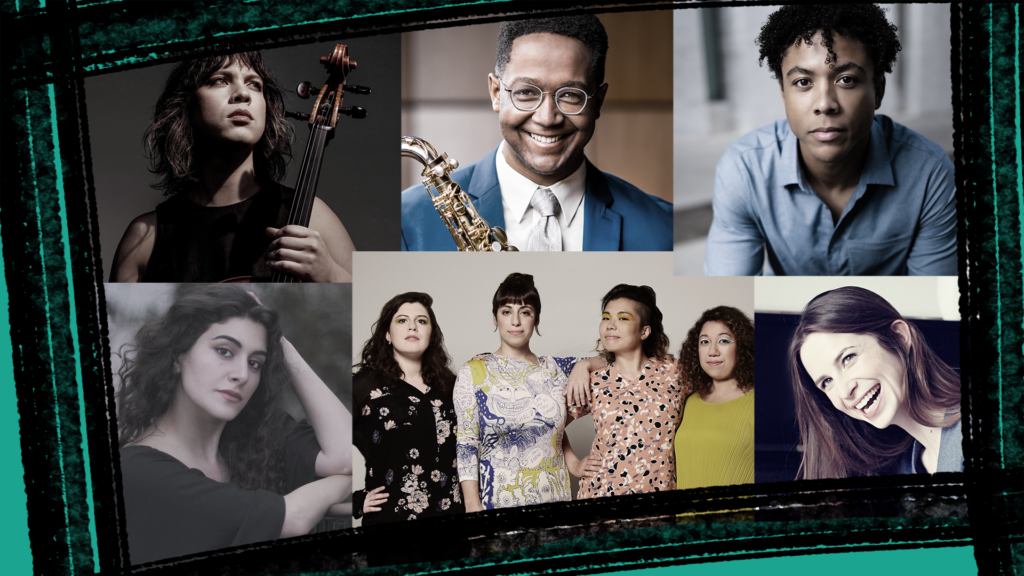 February 1, 2022 – New York City's sole classical music station, WQXR,  New Sounds, and The Jerome L. Greene Performance Space today announce a new roster of Artist Propulsion Lab (APL) artists. The Artist Propulsion Lab was conceived in 2021 to support early and mid-career musicians who exemplify the highest standards of performance and possess a creative, innovative mindset, whose opportunities for work were severely limited by the pandemic. Each APL member is given a $15,000 grant as well as a budget of up to $5,000 to engage collaborators and commission works. As part of the program, they are also provided the opportunity to engage in activities including performances in The Greene Space for digital and on-air distribution, on-air host and curation opportunities, community engagement, and public masterclasses.
The 2022 WQXR Artist Propulsion Lab members are:
Aizuri Quartet (Emma Frucht and Miho Saegusa, violins; Ayane Kozasa, viola; Karen Ouzounian, cello)
Justin Austin, baritone
Steven Banks, saxophonist
Layale Chaker, violinist and composer
Emi Ferguson, flutist
Andrew Yee, cellist
The new members were selected from a pool of over 60 artists who were nominated by other musicians, administrators and leaders in the music world.
"WQXR's mission is not solely to bring listeners classical music, but also to support and connect the emerging artists who are forging its future," said Ed Yim, Senior Vice President and Chief Content Officer, WQXR. "The Artist Propulsion Lab gives artists the means and freedom to experiment and produce creative work that can be shared across our platforms – radio airwaves, online, and on stage at The Greene Space. The 2022 members are an impressive group, brimming with new ideas, diverse perspectives and a vision for the future of classical music. We're excited to be an incubator for their creations, and to share their work with our audiences."
The Artist Propulsion Lab was founded in 2021 as a response to the COVID-19 pandemic that made live performance nearly impossible, severely impacting classical music and the broader cultural community. The inaugural 2021 Artist Propulsion Lab members were violist Jordan Bak, flutist Brandon Patrick George, violinist Kelly Hall-Tompkins, pianist Orion Weiss, mezzo-soprano Kara Dugan, and The Junction Trio (violinist Stefan Jackiw, cellist Jay Campbell, and pianist Conrad Tao).
"From day one, the APL team encouraged me to embark on creative initiatives that speak to me as a person and capture my unique artistic voice," said APL alum Kara Dugan "From hosting a radio hour, to interviewing my musical idol, to performing world premieres written by up-and-coming teenage composers, each experience I had at APL taught me new skills and instilled a confidence that I will take with me throughout my career."
"Artist Propulsion Lab was an incredible experience for me," said APL alum Brandon Patrick George "It allowed me to pursue projects that speak to my own interests as an artist and to express myself fully on a musical and intellectual level. This has empowered me to move forward in my career knowing that my own story and artistic choices can help make meaningful connections with audiences. The impact of the WQXR platform to promote my work, as well as the financial investment during the early stages of my career is immeasurable."
Leadership support for WQXR's Artist Propulsion Lab is provided by The Jerome L. Greene Foundation, Robert and Mercedes Eichholz Foundation, Stavros Niarchos Foundation (SNF), and The Carson Family Charitable Trust. Additional support is provided by Bethany and Robert B. Millard, and in memory of Stuart Nelson.
More information on the new APL members is below:
The Aizuri Quartet
Emma Frucht and Miho Saegusa, violins
Ayane Kozasa, viola
Karen Ouzounian, cello
Formed in 2012 and combining four distinctive musical personalities into a powerful collective, the Aizuri Quartet draws its name from "aizuri-e," a style of predominantly blue Japanese woodblock printing that is noted for its vibrancy and incredible detail. The Aizuri Quartet has established a unique position within today's musical landscape, infusing all of their music-making with infectious energy, joy and warmth, cultivating curiosity in listeners, and inviting audiences into the concert experience through their innovative programming, and the depth and fire of their performances.
Praised by The Washington Post for "astounding" and "captivating" performances that draw from its notable "meld of intellect, technique and emotions," they were awarded the Grand Prize at the 2018 M-Prize Chamber Arts Competition, along with top prizes at the 2017 Osaka International Chamber Music Competition in Japan and the 2015 Wigmore Hall International String Quartet Competition in London. The Quartet's debut album, Blueprinting, featuring new works written for the Aizuri Quartet by five American composers, was released by New Amsterdam Records to critical acclaim ("In a word, stunning" – I Care If You Listen), nominated for a 2019 Grammy ward, and named one of NPR Music's Best Classical Albums of 2018.
Justin Austin, baritone
Born in Stuttgart, Germany, to professional opera singer parents, Justin Austin began his singing career as a boy soprano performing at venues such as Teatro Real, Bregenzer Festspiele, Lincoln Center, and the John F. Kennedy Center for the Performing Arts. While working with directors such as Götz Friedrich and Tazewell Thompson, he was able to realize early on his love for music and performance. As a multifaceted musician, Mr. Austin performs a wide range of repertoire, from jazz, R&B, and musical theatre, to opera and oratorio. He has collaborated with multiple groups and artists such as Aretha Franklin, The Boys Choir of Harlem, Mary J. Blidge, Elton John, Lauryn Hill, The Roots, 30 Seconds to Mars, John Cale, Ricky Ian Gordon, Damien Sneed, Kanye West, and jazz legends Reggie Workman, Hugh Masekela, and Wynton Marsalis.
This year, Justin will make his Metropolitan Opera debut as Marcellus in the company premiere of Brett Dean's Hamlet, while also covering the leading role of Charles Blow in Terence Blanchard's Fire Shut Up In My Bones. He currently stars as George Armstrong in Lynn Nottage's and Ricky Ian Gordon's Intimate Apparel at Lincoln Center Theater. In addition, he will also return to Carnegie Hall as the title role in Mendelssohn's Elijah with the Oratorio Society of New York, joins the New York Festival of Song for their debut concert at Little Island in New York City, and joins the Cecilia Chorus at Carnegie Hall as the baritone soloist in both Margaret Bonds' Ballad of the Brown King and Handel's Messiah.
Steven Banks, saxophone
Steven Banks, First Prize recipient at the 2019 Young Concert Artists International Auditions, is establishing himself as both a compelling and charismatic soloist, dedicated to showcasing the vast capabilities of the instrument, and an advocate for expanding its repertoire. This season, Steven appears as concerto soloist at the Colorado Music Festival in performances of works by Glazunov and Ibert, and later with the Colorado Symphony, performing John Adams' Concerto. He will also appear on subscription concerts with The Cleveland Orchestra in Philip Glass' Façades with John Adams on the podium. Mr. Banks will also premiere an original composition for alto saxophone and string quartet in Carnegie Hall alongside the Borromeo String Quartet.
Steven is an advocate for diversity and inclusion in music education, performance, and newly commissioned works in the classical realm. He has written and given lectures on the history of black classical composers and has also collaborated with colleagues Anthony Trionfo, flutist and violinist Randall Goosby to create the Learning to Listen roundtable, a discussion on the nuances of the Black experience in classical music and beyond. In partnership with the Sphinx Organization, they also created the Illuminate! series, which opened three essential conversations on the subject of music education, artist activism, and the LGBTQIA+ community in classical music. As Assistant Professor of Saxophone at Ithaca College, he makes a concerted effort to ensure that all music students feel supported in their everyday studies.
Layale Chaker, violinist and composer
Layale Chaker was raised between several musical streams since childhood, and received musical training at the National Higher Conservatory of Beirut in her native Lebanon, Conservatoire de Paris and the Royal Academy of Music in London. Layale's musical world lies at the intersection of classical contemporary music, Jazz, Arabic Music, and improvisation. Her debut album with her ensemble Sarafand, "Inner Rhyme", recipient of the AFAC 2018 fund, is dedicated to the sounds, rhythms, rhymes, shapes and forms of Arabic poetry. The album sat at #1 for several weeks on the World Charts of iTunes and Amazon Music, and has received praises by the BBC Music Magazine and The New York Times among others.
A Nadia et Lili Boulanger 2019 laureate, Layale Chaker is a finalist of the Rolex Mentor & Protege 2018 Prize, the recipient of the Diaphonique Franco-British Commission Prize 2019, the 2018 Arab Fund for Arts and Culture Grant, the Royal Academy of Music 2018 Guinness Award, and the winner of the Ruth Anderson 2017 Competition.
Emi Ferguson, flute
English-American performer and composer Emi Ferguson stretches the boundaries of what is expected of modern-day musicians. Emi's unique approach to the flute can be heard in performances that alternate between the silver flute, historical flutes, and auxiliary Flutes, playing repertoire that stretches from the Renaissance to today.
Emi was a featured performer alongside Yo-Yo Ma, Paul Simon, and James Taylor at the 10th Anniversary Memorial Ceremony of 9/11 at Ground Zero, where her performance of "Amazing Grace" was televised worldwide. As a historical flutist, in addition to her appointment as principal flute of the Handel and Haydn Society, Emi is thrilled to be a frequent guest soloist with period ensembles. She was the only flutist accepted to Juilliard's inaugural Historical Performance class, and was the first person to have graduated from Juilliard with undergraduate and graduate degrees with scholastic distinction (awarded for her simultaneous studies in epidemiology) in flute performance, as well as a second graduate degree in Historical Performance as a Paul and Daisy Soros Fellow. Emi is currently on the faculty of the Juilliard School, the Bach Virtuosi Festival, and has taught on the faculty of the University of Buffalo.
Andrew Yee, cello
Grammy-Award-winning cellist Andrew Yee has been praised by Michael Kennedy of the London Telegraph as "spellbindingly virtuosic." Trained at the Juilliard School, Andrew is a founding member of the internationally acclaimed Attacca Quartet who have released several albums to critical acclaim including Andrew's arrangement of Haydn's Seven Last Words. They were the quartet-in-residence at the Met Museum in 2014, and have won the Osaka and Coleman international string quartet competitions. Andrew is also no stranger to WQXR, in 2019 ChamberQUEER, the organization co-founded by Andrew with the mission of highlighting historically underrepresented queer figures in classical music, performed in the Greene Space for WQXR's Pride Celebration.
Their newest recording of the string quartets of Caroline Shaw won a Grammy award for best Chamber Music/Small Ensemble performance. Andrew's solo project "Halfie" draws on their experience as a bi-racial and non-binary person in having access to multiple communities at once, while not feeling at home in any of them. The works commissioned and on the concerts will feature a wide range of composers all for solo cello.
ABOUT WQXR
WQXR is New York City's only all-classical music station, immersing listeners in the city's rich musical life on-air at 105.9FM, online at WQXR.org, and in person through live events and performances. WQXR presents new and landmark classical recordings, as well as live concerts from New York City's concert halls and performance venues, and broadcasts essential destination programs including Carnegie Hall Live, Metropolitan Opera Saturday Matinee Broadcasts, New York Philharmonic This Week, New York in Concert, This Week with Yannick, and the Young Artists Showcase. WQXR also produces podcasts that reach new audiences for the artform: The Open Ears Project, Helga: The Armory Conversations in partnership with the Park Avenue Armory, and—in partnership with the Metropolitan Opera—the critically acclaimed opera podcast, Aria Code. As a public radio station, WQXR is supported through the generosity of its members, donors, and sponsors, making classical music relevant, accessible, and inspiring for all.